Share:
Share:
Treading the boards
By


Thomas Wicks
Buildings and architecture, Arts and creativity
Published Date:06 Sep 2013
Photo: Larger centres such as Stratford, Cobourg and Carleton Place (shown here) included performance venues within their civic buildings
Performance venues command an important presence in Ontario communities. They tell us about the aspirations of the people who built them, and they reflect the development of the province as a whole.
Starting in the late 18th century when Upper Canada was established, the formation of military settlements created the first ready audiences capable of making theatre viable. Although the development was slow in this early period, the preconditions required to give rise to performance venues had taken root. As the population increased, so too did the demand for live entertainment.
Although live theatre was an irregular activity in the early 19th century, American touring companies, by the 1820s, began visiting towns and villages in Ontario as part of their tours. As settlement began to reach farther into new territory and rapid industrialization led to a network of railway lines, reliable communication and travel opened the province up to the itinerant theatre troupes common in the period. By the late 19th century, there were about 250 touring companies on the road in Ontario.
In the second half of the 19th century, with urban expansion and its associated civic pride, town halls became more than just council chambers, and included jails, firehalls and performance venues. Many of these structures and their theatre spaces still exist behind edifices both modest and grand. Town halls in Acton, Aylmer, Clinton and Woodstock are significant examples. These structures – built in architectural styles including Italianate, Second Empire and neoclassical – included large assembly spaces still in continuous use.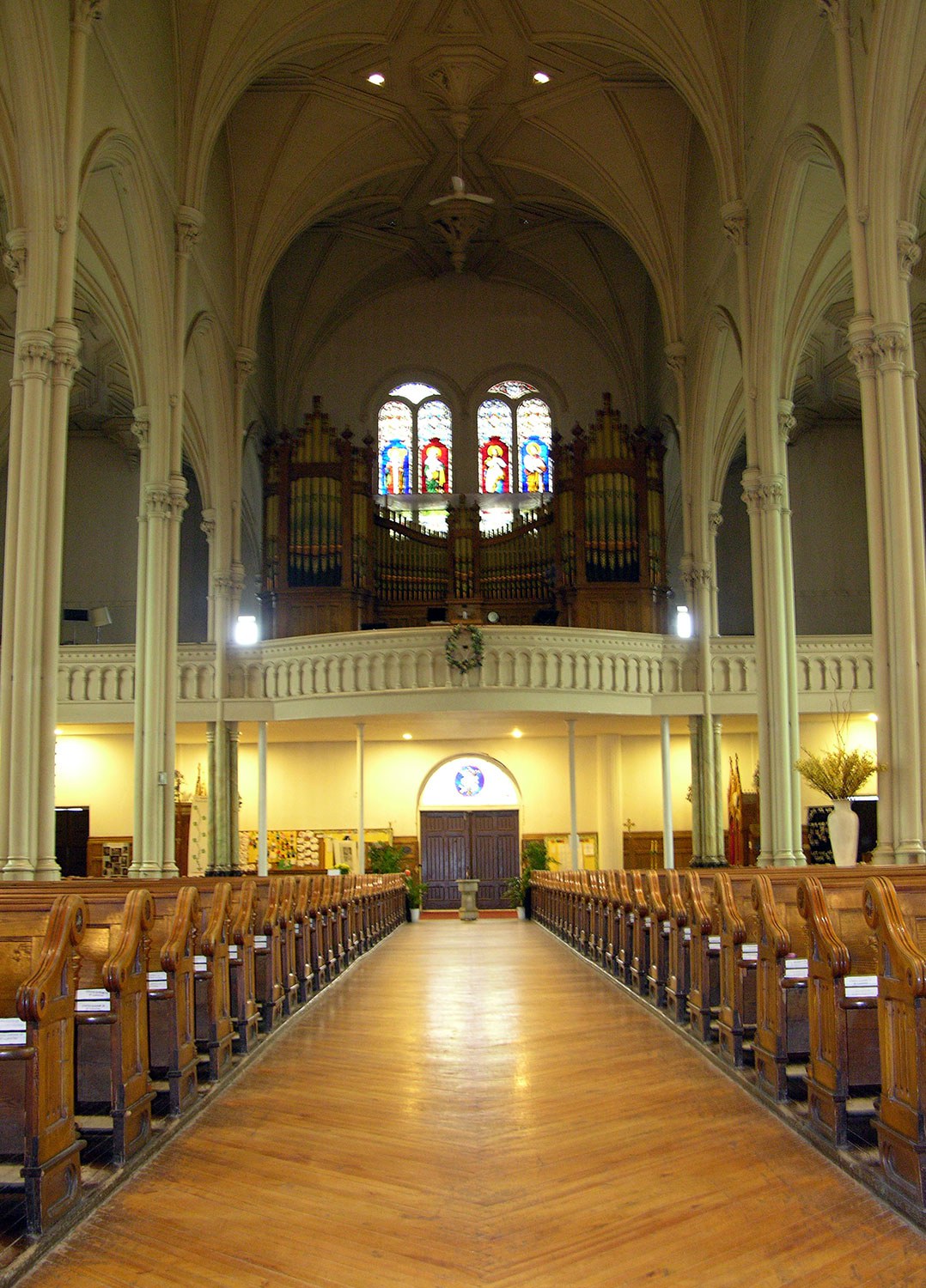 Photo: Churches have also been successfully converted into theatres. St. Brigid's Church in Ottawa (shown here) recently found new use hosting various public performances within its walls..
Larger centres such as Stratford, Cobourg and Carleton Place incorporated performance venues within their civic buildings, too. Stratford's Queen Anne-revival city hall – by architects George W. King and John Siddall, constructed in 1899 – and Cobourg's Victoria Hall in the English Palladian style – by architect Kivas Tully, completed in 1860 – include impressive multifunctional performance spaces. Carleton Place's town hall in the Richardsonian Romanesque style – by architect George W. King – includes a second-floor auditorium that features a decorative pressed-metal, barrel-vault ceiling with floral motifs, a balcony and a rare raked stage.
When Toronto built its classical revival St. Lawrence Hall in 1850 to the designs of provincially significant architect William Thomas, it included the city's largest performance venue at the time, attracting the internationally acclaimed Swedish opera singer Jenny Lind.
Civic pride and a growing hunger for entertainment set the stage for some of the province's earliest purpose-built theatres. The former St. Marys Opera House is one such example. The three-storey limestone building – designed in the Gothic revival style and constructed in 1879-80 – is an impressive early example. Converted into a flour mill in the 1920s and then into apartments in the 1980s, this structure still dominates St. Marys waterfront. The conversion of this theatre also shows the adaptable nature that many early venues possessed.
Courthouses became venues for theatre as well and Niagara-on-the Lake's neoclassical courthouse, also designed by William Thomas in 1846, houses a theatre within a converted courtroom. This space was used for the earliest performances of the Shaw Festival in 1962 and continues to be used by the Festival to this day.
Adaptability, however, was often a two-way street with a number of other historical structures being converted into performance venues. Cobourg's Firehall Theatre, for example, is housed within the Second Empire-style former Second Street Fire Hall, constructed in 1882.
Churches have also been successfully converted into theatres with Galt's First Delta Baptist Church, designed in a mixture of Romanesque and Italianate styles by architect Thomas Boughton in 1887, converted to a theatre in 1982. Similarly, St. Brigid's Church in Ottawa and the Century Church Theatre in Hillsburgh have recently found new uses hosting various public performances within their walls.
Even barns have been repurposed as theatres – as seen in the 4th Line Theatre in Millbrook, which provides the setting for a series of summer performances, a nod to the tradition of outdoor theatre.
Seasonal venues continue to thrive, including the Kee to Bala, a dance hall and performance space for live bands in Muskoka, and various bandshells erected in community parks across Ontario. Port Hope's bandshell, conceived as a memorial to the town's fallen soldiers in 1945, is one such example, as is Toronto's Canadian National Exhibition bandshell, which was inspired by the art deco Hollywood Bowl and constructed in 1936.
All of these venues attest to the importance of live performance space in the evolution of Ontario's communities. As a reflection of the history of Ontario, they retain their value not just from the architectural, historical and contextual significance, but also from their ongoing use and existence.
Previous article
Next article
Photos © Ontario Heritage Trust, unless otherwise indicated.
Photos © Ontario Heritage Trust, unless otherwise indicated.