Share:
Share:
Off the wall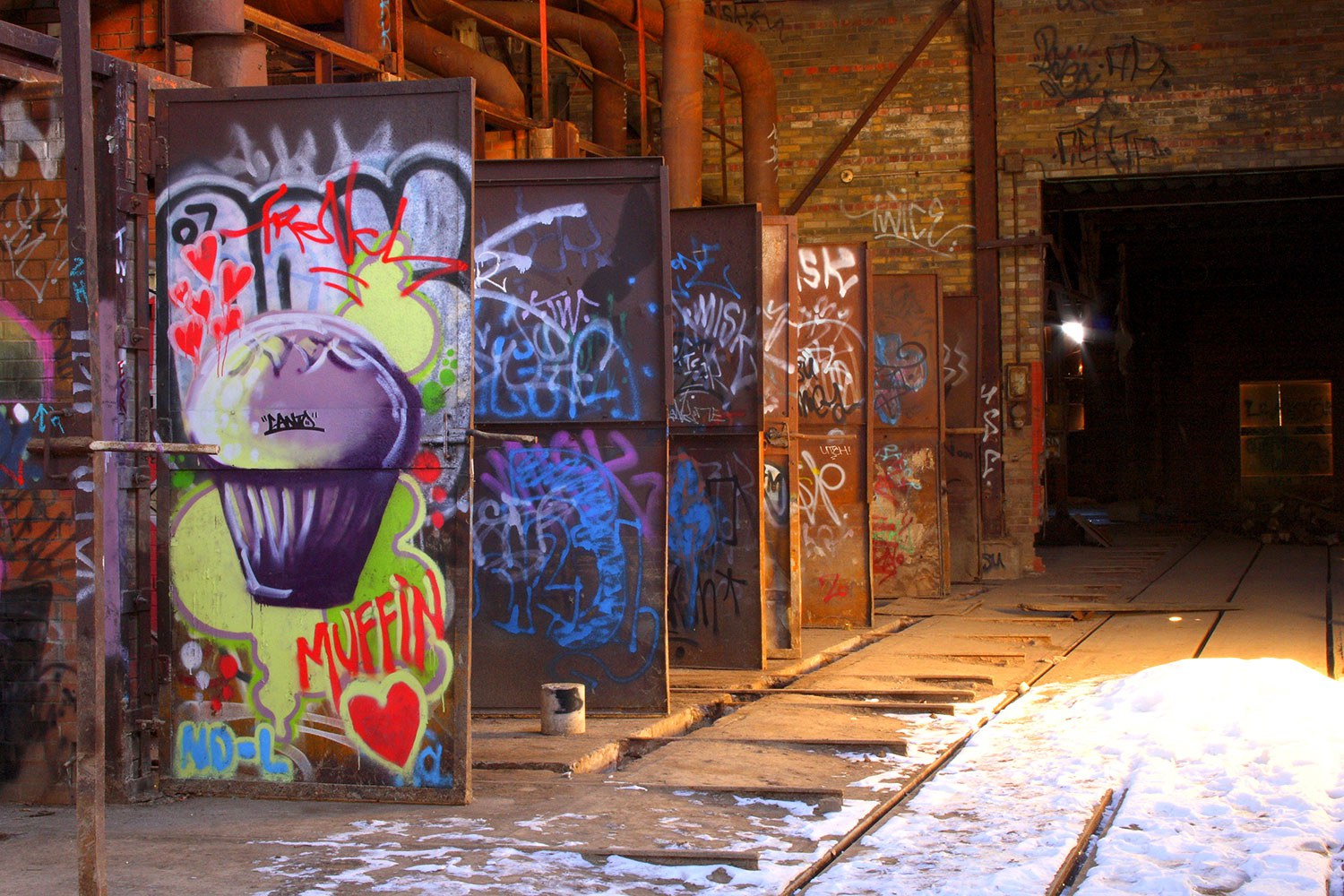 "Graffiti versus Conservation: Typically, graffiti is unwelcome and discouraged on heritage buildings. It can negatively impact interpretation, accelerate deterioration, and encourage vandalism. Graffiti removal methods, too, can seriously damage finishes and materials. In rare cases, where graffiti itself takes on heritage value, it may be preserved for artistic, cultural historical and interpretive reasons. On the highly textured bricks found at the Don Valley Brickworks, the graffiti cannot be removed safely and environmentally without destroying the building fabric."
By


Bruce Beaton
Buildings and architecture, Arts and creativity
Published Date:15 Feb 2013
Photo: From wall to wall and kiln to kiln, thousands of individual types, styles and techniques of artistic graffiti can be found at Evergreen Brick Works, dating back to the early 1980s (Photo: Michelle Scrivener)
Storytelling takes inspiration from many sources. Traditionally, museums weave a narrative from real objects: a vase, a coat, a building or a historical site. At Evergreen Brick Works, an environmental community centre in the heart of Toronto's Don Valley, some of the artistic and culturally significant graffiti helps tell the stories of the site's cultural past. It's written on the walls, ceilings and rooftops of this former brick-making factory.
Founded in 1889, the Don Valley Brick Works produced more than 43 million bricks a year, helping to rebuild the skyline of Toronto after The Great Fire of 1904. In the early 1980s, the existing kilns – built in 1957 – needed an upgrade but the natural resources necessary for brick production were all tapped out. The factory was abandoned in 1984 and sat vacant for almost 20 years, becoming a playground for urban explorers, partiers, ravers and photographers. The deserted buildings were also a blank canvas for local and international graffiti artists who left thousands of individual types, styles and techniques of graffiti on the crumbling walls for all to see and appreciate.
Evergreen, a national charity that makes cities more livable, broke ground on revitalizing the Don Valley Brick Works site in 2008, transforming the 4.9-hectare (12-acre) industrial complex with its crumbling post-industrial buildings into Evergreen Brick Works – a dynamic public space and showcase for green design and urban sustainability.
Protected by a conservation easement held by the Ontario Heritage Trust, the site contained thousands of artifacts in various states of preservation – kilns, brick presses, pulleys, hoppers, storage bins and conveyors – as well as workers' chalkboard timetables written in Italian and other mementos from our city-building past.
When Evergreen began construction, a central tenet of the re-design plan was its adaptive reuse – adapting old structures for new purposes. Today, the heritage buildings and artifacts have been largely preserved – some adapted for new uses, some archived and stored. Others have been left in place, including the extensive artistic examples of graffiti visible throughout the site. A conservation easement protects this culturally significant graffiti as a layer of the site's history.
In the spring of 2013, Evergreen will launch Graffiti Works: 1989-2008. Created in cooperation with the University of Toronto, Master of Museum Studies Program, this exhibition will tell the history of the site's lost years, and will feature a self-guided exploratory walking tour of the onsite graffiti, plus offer video footage of local artists discussing the importance of these urban masterpieces.
The story of the Don Valley Brick Works is told most noticeably by gazing at Toronto's skyline; but a different story is told in garish colours and images on the site's industrial walls. Now, a new chapter is unfolding at Evergreen Brick Works – one that explores urban sustainability and a greener future, while recognizing our recent cultural past.
Previous article
Next article
Photos © Ontario Heritage Trust, unless otherwise indicated.
Photos © Ontario Heritage Trust, unless otherwise indicated.