Heritage conservation people
Growing up in Port Hope fostered a belief that every community had an amazing main street. That ignorance was shaken when I returned from university with a classmate who exclaimed, as we were driving down Walton Street, "You didn't tell me your downtown looked like this!" Afterwards, I appreciated the beauty of my hometown downtown even more. So much so that our family started a business in downtown Port Hope and I was on council from 1998 to 2000. During this time period, members of the community undertook tireless hours of research as they prepared a Downtown Heritage Conservation District Study that was approved in 1997. These efforts will ensure that the character of Walton Street is conserved for generations to come.
District designation, however, wasn't the beginning or the end of the story. This is a story about people who have worked tirelessly over the years to support the town's activities. People like Clay and Carol Benson, who invested in Smith's Creek Antiques and convinced fellow antiques dealers to relocate there. Or people like the Rumgays, who restored their private residence, began a publishing business in Port Hope (Century Home Magazine), and restored the once-vacant building at 1 Walton Street into a hotel/restaurant because, as they said, "if we don't do it, then who else will?!" And how can we forget local pharmacist Dave Watson, who loves owning one of Canada's oldest pharmacies and has invested considerable personal money into the restoration of his building, a part of the Tempest Block.
It's a story of the local Kinsmen Club, whose members volunteer to put up lights every year for the Christmas season. Or the Holtons, who, while still running their local florist business, would water the street's hanging baskets before the town took on this responsibility itself. It's also about volunteers like my Grade 4 teacher, Peter Bolton, who offers his time and energy at the downtown Capitol Theatre, an invaluable cultural venue.
The story wouldn't be complete without the volunteer members of the local heritage committee who meet with business owners to discuss the details of what type of sign they want to put up. It's about incredibly successful community organizations, such as the Architectural Conservancy of Ontario (ACO), Port Hope Branch, which recognizes that it must support heritage conservation by providing grants to property owners, and which has pledged $250,000 over the next few years for restoration projects in Port Hope's downtown core – including the restoration of the Tempest Block.
Local residents also see the connection between their consumer choices and the requirement for downtown businesses to be successful. Perhaps that's why our shopkeepers have chosen a lifestyle of operating a downtown business supported by endless hours of work. This would include my wife Teri-Jo, who now runs the family business by herself.
Dedication to local conservation isn't overlooked. The success of downtown Port Hope can also be attributed to the late A.K. Sculthorpe, honoured by the ACO with the A.K. Sculthorpe Award for Advocacy. Sculthorpe donated money to the local ACO and other local organizations to assist in their ongoing efforts.
All of these factors (and many more) have combined to make Port Hope and its downtown the benefactor of national distinction, including being one of the Top 10 Communities in Canada (Harrowsmith Magazine), the best destination (Reader's Digest), and TVOntario's best-preserved mainstreet in the province.
Heritage conservation is as much about the culture of a community as it is about the individual buildings. Port Hope is blessed with this culture. In 2009, I attended the Canadian Heritage Conference where a presenter from Port Hope lamented the inability of a community group to sway council's position to support conservation of another local heritage site, referred to as the Pier Buildings. He indicated that people in Port Hope seem to be more interested in people than in buildings. But while this may in some ways be true, as in the Walton Street Heritage Conservation District, our experience has shown that the people are worth investing in if these are the kinds of results we can achieve.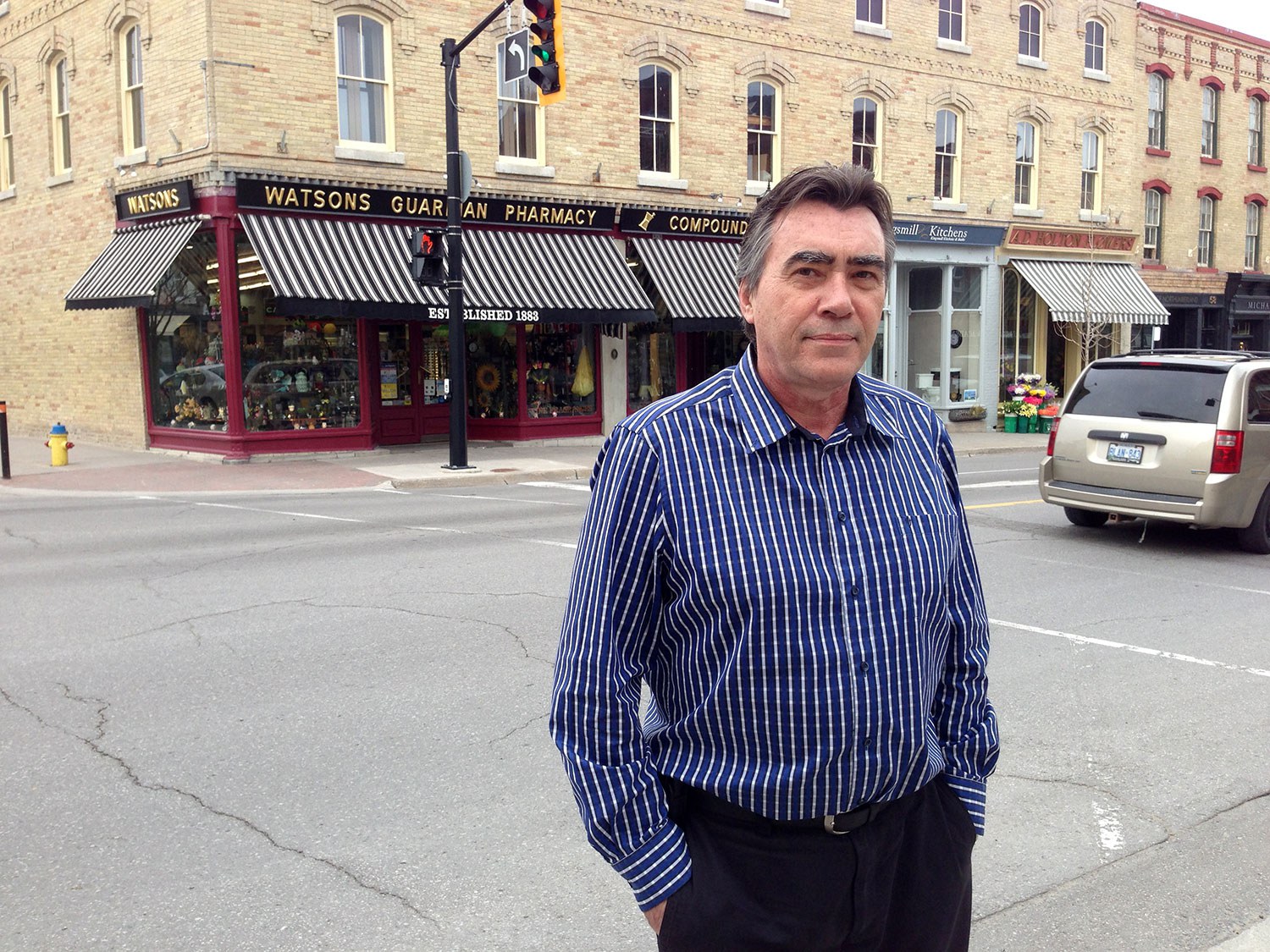 Photo: Dave Watson, a fourth-generation pharmacist, stands in front of his Port Hope pharmacy. (Photo: Stephen Ashton)
Previous Article
Next Article