Share:
Share:
Hurricane Hazel 50 years later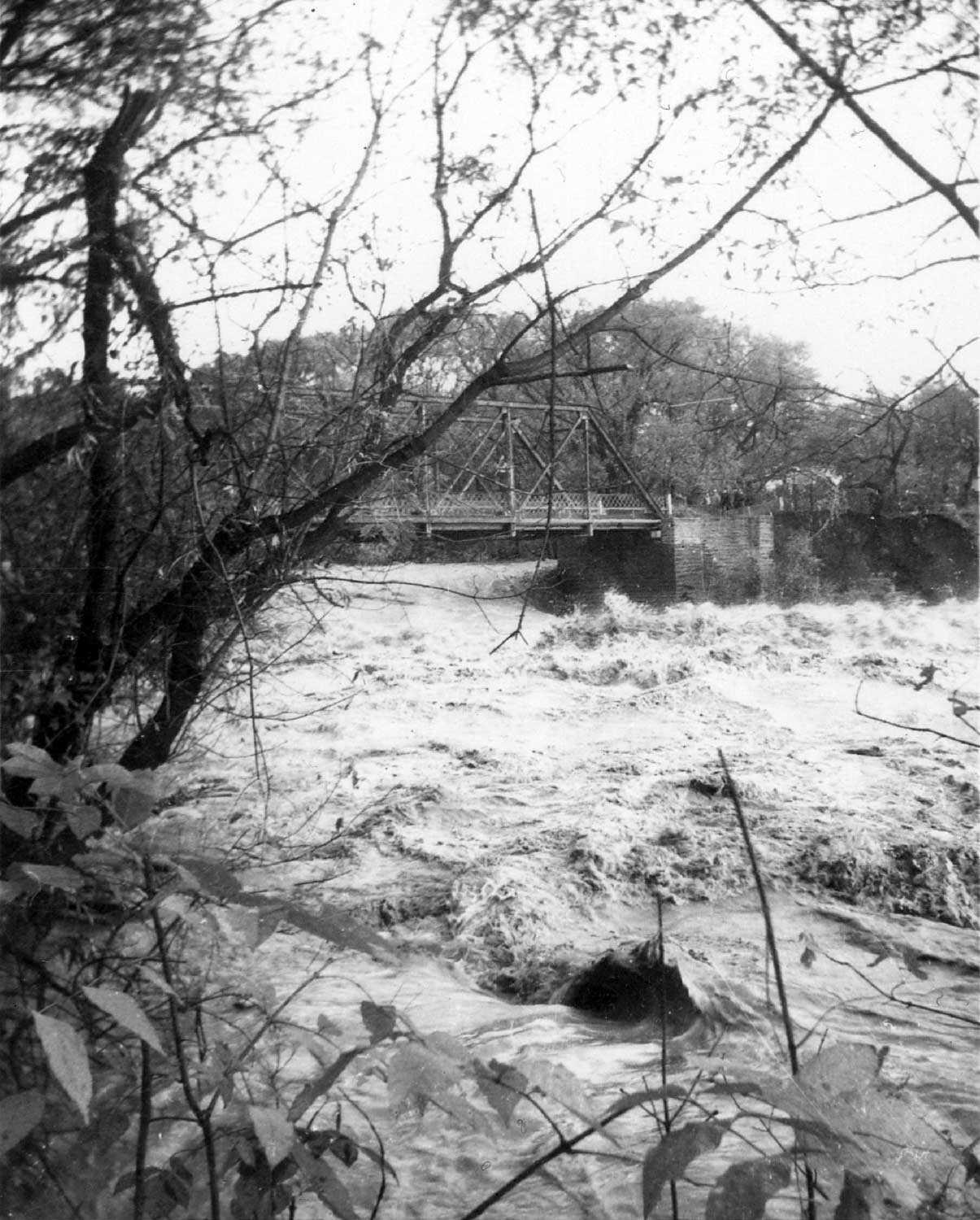 "A provincial plaque marking the 50th anniversary of Hurricane Hazel was unveiled by the Ontario Heritage Foundation and The Humber Heritage Committee on October 16, 2004. The plaque, located in King's Mill Park in Etobicoke, is part of the Foundation's Provincial Plaque Program that commemorates significant people, places and events in Ontario's history. Since 1953, more than 1,160 of these distinctive blue and gold plaques have been unveiled."
By


Ontario Heritage Trust
Natural heritage, Community
Published Date:12 Feb 2005
Photo: Flooding in Toronto caused by Hurricane Hazel (Photo: Madeleine McDowell)
There was little warning about Hurricane Hazel – one of the worst storms in Canada's history. At the time, few Canadians paid attention to tropical storms. But when Hurricane Hazel struck southern Ontario at rush hour on October 15, 1954, that complacency disappeared.
Buffeted by winds of up to 110 km/h, over 200 mm of rain fell within 24 hours, causing rivers to overflow and flood communities across southern Ontario. The storm killed 81 people and left thousands homeless. Property damage – with homes and bridges washed out – was estimated at over $180 million. But the legacy of this catastrophe was the development of a sophisticated provincewide weather warning system, measures to conserve watersheds of major rivers and a flood warning and control system.
"Hurricane Hazel devastated Toronto, and left our city reeling," said Toronto Mayor David Miller. In its wake, the storm had dumped 181.6 billion litres of rain on the city. Rivers swelled, flooding railway lines and highways. Many guests at the plaque unveiling in October 2004 recalled seeing refrigerators and bodies floating downriver as they viewed the devastation from bridges left unscathed.
"The extent of the flood waters and the people who perished touched the lives of almost everyone in the Toronto area," said Madeleine McDowell, Chair of the Humber Heritage Committee, "but most particularly in its largest watershed, the Humber, where the greatest loss was felt."
The damage from the storm in this area was catastrophic. Floodwaters swept away 14 homes on Raymore Drive on the west side of the river just south of Lawrence Avenue and killed 32 residents in one hour. In areas where floodplains had been drained and developed for housing, the damage to homes was extensive. Many lessons, however, were learned from Hurricane Hazel. The Province of Ontario established a flood forecasting and warning system, managed by representatives from all three levels of government. Flood control facilities were studied, upgraded or constructed. Dams, three lakes and several reservoirs were also built to control water levels and monitor the flow of rivers and streams. As a result of Hurricane Hazel, homes on low-lying lands were cleared. Greenbelts were established in watershed areas as part of a broad system of Toronto and area parks. Conservation authorities throughout southern Ontario were either formed or given greater support to manage these parks in areas prone to flooding.
"Certainly the forces of nature continue to display their awesome powers," said The Honourable Lincoln M. Alexander, Chairman of the Ontario Heritage Foundation, "but Hurricane Hazel forever changed the way we prepare ourselves for such events."
Next article
Photos © Ontario Heritage Trust, unless otherwise indicated.
Photos © Ontario Heritage Trust, unless otherwise indicated.