Share:
Share:
A legacy of support: Faith-based community
By


Alison Little
Buildings and architecture, Community
Published Date:10 Sep 2009
Photo: Toronto Jewish Old Folks' Home (1918), Toronto
Reaching out to those in need has long been a part of Ontario's religious tradition. Faith-based groups offering medical and social assistance arrived with the first European missionaries and spread throughout the province. Spiritual institutions provided the earliest forms of social care, offering medical and social assistance to Ontario's less fortunate more than a century before the development of government-supported services.
Early faith-based outreach came from local congregations. In 1854, Bishop Armand-François-Marie de Charbonnel (1802-91) built the House of Providence near St. Paul's Roman Catholic Church in Toronto, housing a hospital, orphanage and home for the elderly. Similar institutions across the province, including the Sisters of St. Joseph House of Providence in Peterborough, provided orphanages and accessible medical care for residents unable to afford doctors. These organizations arose from a Victorian-era moral and religious revival among the affluent of England and North America, with a goal of improving the lives of the less fortunate through charitable and spiritual care. Focused in urban areas, their outreach efforts provided food, shelter, clothing, education, medical care and burial for the poor.
As concern for the disadvantaged grew, societies were created to manage outreach programs. Established by Frederic Ozanam (1813-53), the Catholic Society of St. Vincent de Paul opened the Conference of Charity of Our Lady of Toronto in 1850. Its members initiated the Bona Mors Society, which provided burials for Toronto's poor, and established the Catholic Children's Aid Society of Metropolitan Toronto, the Night School for Boys and the Toronto Savings Bank. Members also undertook frequent home and hospital visitations to the sick and elderly.
Post-Confederation immigration began to diversify Ontario's population, and the number of religious social outreach societies continued to grow. In 1870, the Deborah Ladies' Aid Society (today the Deborah Sisterhood) was established by Jewish women of the Anshe Sholom of Hamilton to provide social services to that city's poor. The first Jewish women's philanthropic group in Canada, it offered food and clothing to residents and immigrants. Such religious organizations were precursors of today's employment insurance, food banks, retirement homes and immigrant settlement services.

Members of the BAPS Shri Swaminarayan Mandir, Toronto, participate in an annual walkathon fundraiser for local hospitals in 2007. (Photo courtesy of BAPS Shri Swaminarayan Mandir, Toronto).
While many charitable organizations were offshoots of religious groups, the Salvation Army was a Christian denomination organized specifically to provide charitable outreach and spiritual assistance. The Army established congregations across Ontario beginning in 1882, and introduced its now-famous thrift stores, food banks, soup kitchens and shelters. The Woodstock Salvation Army, celebrating its 125th anniversary, has maintained a philosophy of "soup, soap and salvation" throughout its history, providing physical nourishment, social support and spiritual care to its charges. During the Great Depression, the Woodstock Army addressed the needs of community members struggling with poverty and addiction. The emphasis on spiritual salvation through physical health underpinned the Salvation Army's activities, but began to change as society became more secular and diverse. Religious social aid societies like the Salvation Army have had to modify their outreach programs to reflect the diverse religious backgrounds and values of the communities they serve.
Faith-based social service initiatives continued to grow throughout the 20th century, often forming links with larger secular services. With the emergence of welfare after the Depression and the arrival of universal health care in 1962, religious social aid societies continued to minister to local communities, while providing increasing aid to global charitable programs. Established in 1951, BAPS Charities, which sends medical, educational and environmental aid to Hindu communities in India, exemplifies the partnership of a large social aid institution with a local faith group. The BAPS Shri Swaminarayan Mandir in Toronto also provides outreach services to the Toronto community. The charitable work of the Toronto Mandir's congregation is partnered with its international charity, extending the efforts of local religious social services to the global community.
Today, religious community services work alongside secular charities and government health and social assistance providers. Virtually every faith group and religious tradition in the province contributes to the social and physical betterment of those in need, undertaking charitable acts as a tenet of its beliefs. Faith-based charities have been a significant aspect of Ontario society, and an invaluable tool in the struggle to alleviate ignorance, poverty, illness, addiction and isolation.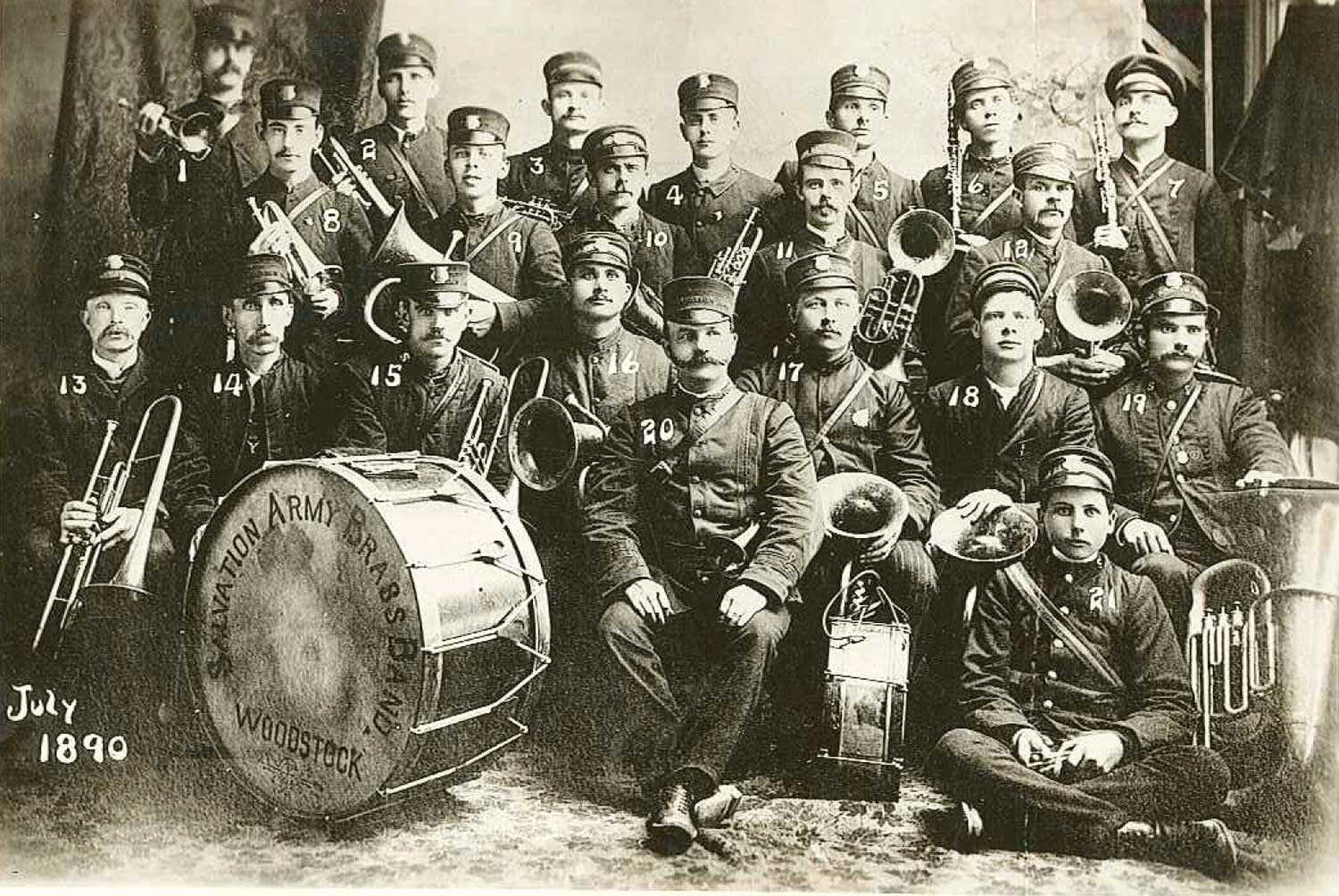 Photo: The Woodstock Salvation Army Brass Band raised funds for charitable activities through its local performances. (Photo courtesy of Woodstock's Salvation Army Citadel).
Previous article
Next article
Photos © Ontario Heritage Trust, unless otherwise indicated.
Photos © Ontario Heritage Trust, unless otherwise indicated.