Share:
Share:
Overcoming historical amnesia: Recognizing people of African descent as pioneers and community builders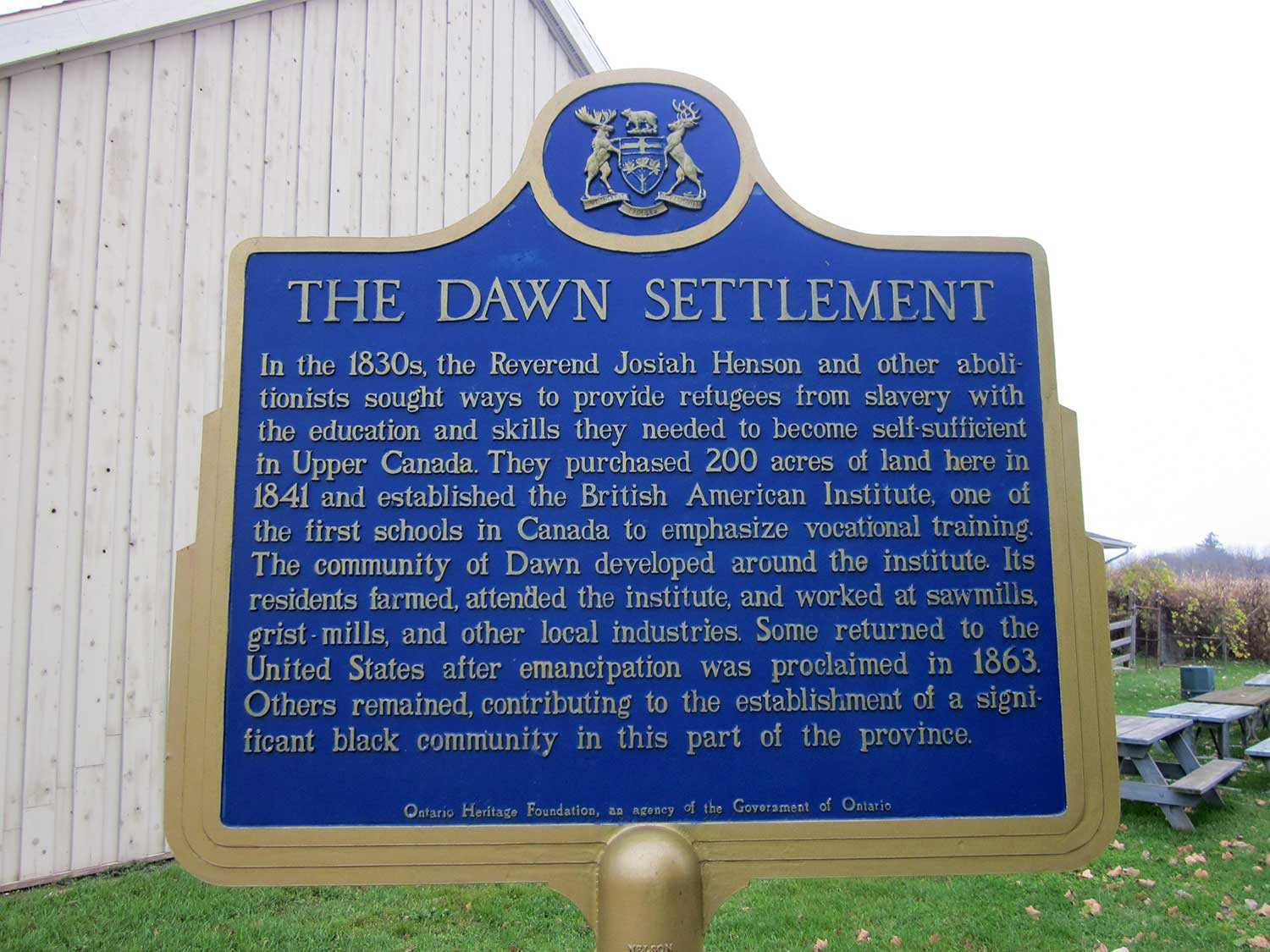 "Did you know? The British American Institute was a manual labour school established in 1841 through the efforts of J.C. Fuller, a Quaker from New York, Reverend Hiram Wilson, an agent for the American Anti-Slavery Society, and the Reverend Josiah Henson, a former slave. Henson and Wilson, on behalf of a board of directors, purchased 300 acres in Dawn Township at present-day Dresden to establish the school. A settlement formed around the school and came to be known as the Dawn Settlement. The Ontario Heritage Trust interprets this history at Uncle Tom's Cabin Historic Site."
By


Marie Carter
Black heritage, Community
Published Date:10 Nov 2011
Photo: Ontario Heritage Trust plaque commemorating the Dawn Settlement
Essential Canadian history often recognizes people of African descent solely through the heroic stories of the Underground Railroad. These stories alone, however, do not represent the diversity of African-Canadians and their contributions.
In 2003, in Dresden, Ontario, developers of the Trillium Trail Historical Walk rejected the idea that the accomplishments of early Black pioneers were confined to their stories of escape. It posed an important question. If the majority of the population in their early community were people of African descent, would some of them not have made contributions similar to those of white settlers in developing the townsite?
Answering this question has led to a radically different understanding of the Dawn Settlement area and its citizens. People of African descent who settled here emerged as diverse individuals, including enterprising former slaves who cleared land and introduced new crops such as tobacco and hemp, and skilled tradespeople. A large percentage were also freemen, including professionals, business owners, and an elite group of successful people who brought their considerable resources with them and invested it in the community. Families like the Whippers, Hollensworths, Hills, Shadds and Charitys had a significant impact on the Dawn Settlement and the emerging community of Dresden.
The extended family or business associates of prominent Underground Railroad operatives like William Whipper were concerned with developing an infrastructure that would assist those who had fled north in successfully building a new life – as well as supporting their own families, whom they had moved north for safety after the passage of the draconian 1850 Fugitive Slave Act in the United States. That infrastructure included social institutions and professional services. From 1853 to 1873, their investments and presence injected new life into the Dawn Settlement. In 1854, the community had developed a flour mill, lumber mill, warehouse, an inn for travellers, a corn mill and various shops in Dresden. These individuals also included professionals who taught at schools and provided the community with a number of long unrecognized firsts, including the town's first doctor (Dr. Amos Aray) and first real estate agent (J.B. Hollensworth).
The Dresden Cemetery gravesite memorial of Mary Anne Whipper-Hollensworth – William Whipper's sister – is one of the rare pieces of physical evidence that remains of the community's connection to a group of well-to-do Pennsylvanians. (Photo: Marie Carter)
Pennsylvanian William Whipper owned the majority of the original townsite after 1853, and held the mortgages on a number of properties he sold, allowing others to make a start – including at least one early white industrialist who would later be credited as a town founder. Whipper and his associates, meanwhile, would pass into historical obscurity.
The community at Dresden is working to rectify this and other instances of historical amnesia by recognizing these early pioneers and community builders – and later civil rights activists – in a variety of historical projects.

Did you know? In 2010, an Ontario Heritage Trust plaque was installed on the town's main street to commemorate Hugh Burnett and the National Unity Association whose activism at Dresden led to the creation of the Fair Employment Practices Act and the Fair Accommodation Practices Act in Ontario. New history projects continue to reflect the multicultural nature of the town's early history and development.
Previous article
Next article
Photos © Ontario Heritage Trust, unless otherwise indicated.
Photos © Ontario Heritage Trust, unless otherwise indicated.