Carving out a place in our history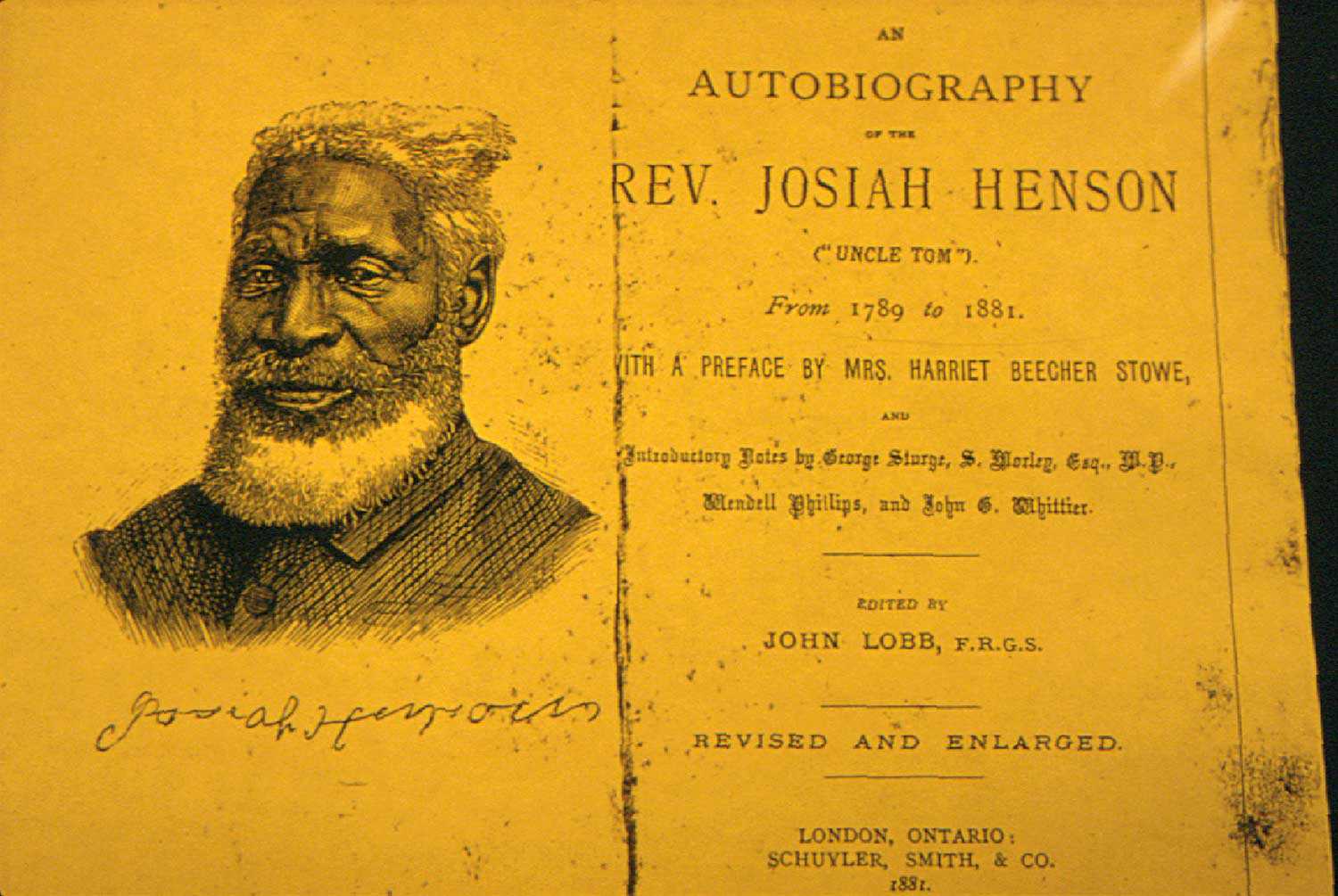 Photo: Born a slave in Maryland in 1789, Josiah Henson escaped to Canada via the Underground Railroad. Settling in southwestern Ontario, he worked to improve life for the black community and helped to establish the Dawn Settlement. Henson would go on to become an internationally recognized abolitionist, preacher and conductor on the Underground Railroad. His former home is now part of Uncle Tom's Cabin Historic Site in Dresden.
Josiah Henson travelled to London, England in 1851 to attend the first World's Fair – also known as the Great Exhibition or Crystal Palace Exhibition. There he exhibited beautifully polished black walnut boards produced at the British American Institute (BAI) sawmill in what is now Dresden, Ontario. Henson wrote about this experience in his 1876 autobiography.
"Among others, the Queen of England, Victoria, preceded by her guide, and attended by her cortége, paused to view me and my property. I uncovered my head and saluted her as respectfully as I could, and she was pleased with perfect grace to return my salutation. "Is he indeed a fugitive slave?" I heard her inquire; and the answer was, "He is indeed, and that is his work."1
The boards that Henson displayed at the 1851 World's Fair were produced from walnut trees grown locally on BAI lands. Students from the Institute harvested the timber, milled it into boards and spent hours planing the boards smooth, polishing the rich dark wood to a brilliant lustre. Henson used those beautifully finished seven-by-four-foot boards to demonstrate to the world the talents and abilities of the BAI students. Henson made his point and came home with the bronze medal.
Henson founded the British American Institute with abolitionist Reverend Hiram Wilson and Quaker James Canning Fuller to provide black settlers in southwestern Ontario with educational opportunities and trades training. Henson's revolutionary vision would, he believed, enable the Black population to become independent and self-sufficient. It was necessary because African Canadian children in many communities across the province were being barred from the common schools due to racial prejudice.
The BAI opened in 1842 with 12 students, part of a small colony of Black settlers living on 300 acres of BAI land. By 1847, the BAI had over 80 students and had cleared almost 100 acres, built seven Institute buildings, opened a brick manufactory and ropewalk or rope-making enterprise using hemp grown on BAI lands. Plans were also underway to build a grist mill and the steam-powered sawmill that produced the award-winning boards Henson exhibited at the 1851 World's Fair.
Today, Uncle Tom's Cabin Historic Site's museum collection includes two decorative wooden chairs believed to be the work of BAI students and settlers who worked in these enterprises. Although little is known about the chairs' provenance, several similar chairs are known to exist in the Dresden area. One is on display at the Chatham-Kent Museum and a few other examples are privately owned.
Each of the chairs is unique and reveals the individual craftsman's hand in the work. The chairs were made by hand from walnut (perhaps locally grown), shaped on a wood-turning lathe to create spindles and decorative beads, and joined using traditional European chair-making techniques. The chairs are strikingly decorated with intricate, often exuberant, hand-carved details on the spindles and chair backs.
Many of the chairs have recurring floral and leaf motifs. One particularly impressive chair was decorated with symbols related to fraternal organizations with strong religious associations – a square and compasses and the letter "G" representing Free Masonry and the Odd Fellow's three-link chain. Interestingly, Henson was a second-degree Mason affiliated with the Mt. Moriah Lodge No. 4 in Dresden.
These beautiful decorative wooden chairs are striking examples of work done by students at the British American Institute. As artifacts, they are exceptional examples of a vernacular form of craftsmanship from the Dresden area. The symbols found on the chairs hint at the lives of those who created and used them. The chairs are on permanent display at Uncle Tom's Cabin Historic Site.
1 Josiah Henson and John Lobb, ed., Uncle Tom's Story of his Life. From 1789 to 1876. Rev. Josiah Henson (Mrs. Harriet Beecher Stowe's Uncle Tom), London: Christian Age Office, 89, Farringdon Street, 1876, 135.
Previous article
Next article