The heritage of faith – Ontario's places of worship
In 2006, the Ontario Heritage Trust began compiling an inventory of significant pre-1982 purpose-built places of worship located throughout the province. These remarkable cultural treasures reflect the history of religious diversity in Ontario and often serve as architectural landmarks that create a unique sense of place in their communities.
The Places of Worship Inventory project spans more than 200 years of Ontario's history. The inventory includes late 18th-century structures, such as Hay Bay Church, and buildings of the recent past, including the London Muslim Mosque erected in 1964. Over 80 different faiths and denominations have been identified and their unique Ontario histories, architectural traditions and roles in the community investigated. Most significantly, to date over 6,500 sites have been identified. The vast majority are not yet listed on local heritage inventories or recognized in any way. In addition to identifying these heritage sites, the project includes research on the province's religious history, including significant people, events and historical themes.
In many communities, the most historic and significant architectural landmarks are their places of worship (either current or former). These landmarks often occupy prime locations due to the influence and age of the congregation or the importance of organized religion in the development of community. Sometimes, a place of worship is a major part of the local landscape, as is the case in the picturesque community of River Canard (Amherstburg) in Essex County. Here, the river, the bowstring bridge and St. Joseph Roman Catholic Church create an image that is not only remarkably pleasing to the eye and a point of local pride, but also important to a landscape that contributes to the community's identity.
As immigration patterns change and neighbourhoods evolve, we sometimes see historic places of worship remain as a testimony to a previous community. At one time, Kensington Market in Toronto was a predominately Jewish neighbourhood; now, it is largely Asian. The presence of the Anshei Minsk Synagogue, built in 1930, is a reminder of the area's changing social fabric.
Sometimes, places of worship are virtually abandoned as the communities supporting them disappear or attendance dramatically decreases. It is also not uncommon for a congregation to either outgrow its place of worship or relocate altogether. This is the case with Old St. John's Anglican Church, a Trust conservation easement property in Niagara Falls. In 1957, the congregation built a new building and Old St. John's was deconsecrated (1962) and eventually converted into a columbarium. With shifting demographics, new religious needs and population redistributions, many congregations of the historic places of worship struggle to keep their facilities in use. It is reassuring to see that significant places of worship can be preserved and converted to new, appropriate and viable uses.
Ultimately, improving our understanding of the nature, scope and significance of the province's religious heritage is the first step in preserving and appreciating these special places. It is important to remember this: we can't preserve it if we don't know it exists.
Adaptive reuse of places of worship. Places of worship play a key role in Ontario's communities – in addition to their religious contribution, they act as community hubs and provide space for many local social services. Historic places of worship, however, are increasingly at risk. Older buildings are falling into disrepair and, due to shifting demographics, many congregations are shrinking in size. In the face of these challenges, a growing number of congregations are modifying their buildings to meet these changing needs, or are considering selling their properties to be adaptively reused by new owners.
Continued use is one of the best ways to ensure the preservation and maintenance of heritage buildings, and adaptive reuse is one such way to achieve this. Places of worship have the potential to be adapted to a variety of uses. Some of the most sensitive conversions are from one faith group to another, as what they need in a place of worship is often similar. Former places of worship are also often compatible as performance spaces and community centres. In urban areas, their prominent locations and unique architecture make many places of worship good candidates for residential, commercial or institutional uses.
The following are examples of adaptively reused places of worship. While some of these buildings have been adapted more recently, others – like Niagara-on-the-Lake's Queenston Community Centre – demonstrate that adaptive reuse is not a new concept.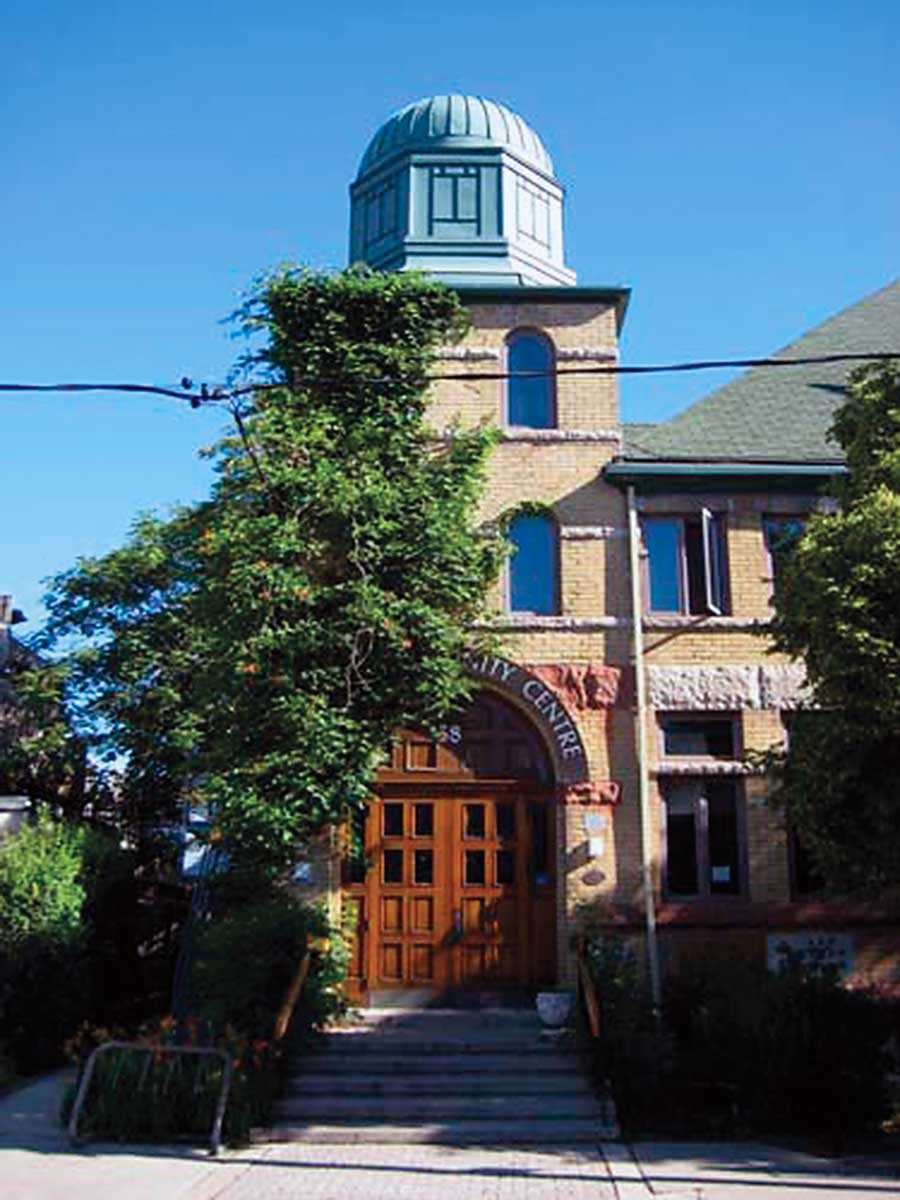 Photo: The Cecil Street Community Centre in Toronto was formerly the Church of Christ, built in 1889-90
Places of Worship Inventory. In recent years, the large number of surplus and increasingly underutilized religious buildings in Ontario has been of serious concern. The Trust's Places of Worship Inventory will become a useful tool for various faith groups, municipalities, heritage organizations and the province for capital planning, conducting heritage evaluations, assembling preservation strategies and undertaking adaptive reuse efforts on religious sites.
This inventory will soon be available to the public through a website dedicated to places of worship in Ontario. In addition to the inventory, the website will include information on how significant heritage places of worship may be conserved and adapted to sympathetic uses. It will also provide histories of various religious denominations in Ontario, as well as the architecture of places of worship, and a comprehensive directory of resources.
It is hoped that this inventory will serve as a resource for researchers, academics, heritage advocates and heritage professionals, and will assist with the conservation of Ontario's religious heritage properties by encouraging the adaptive reuse of these important sacred places. In the long term, the inventory will promote a better understanding of Ontario's religious heritage, as well as its multi-cultural legacy and diverse history.
Previous article
Next article