Exploring the Beaver River Wetland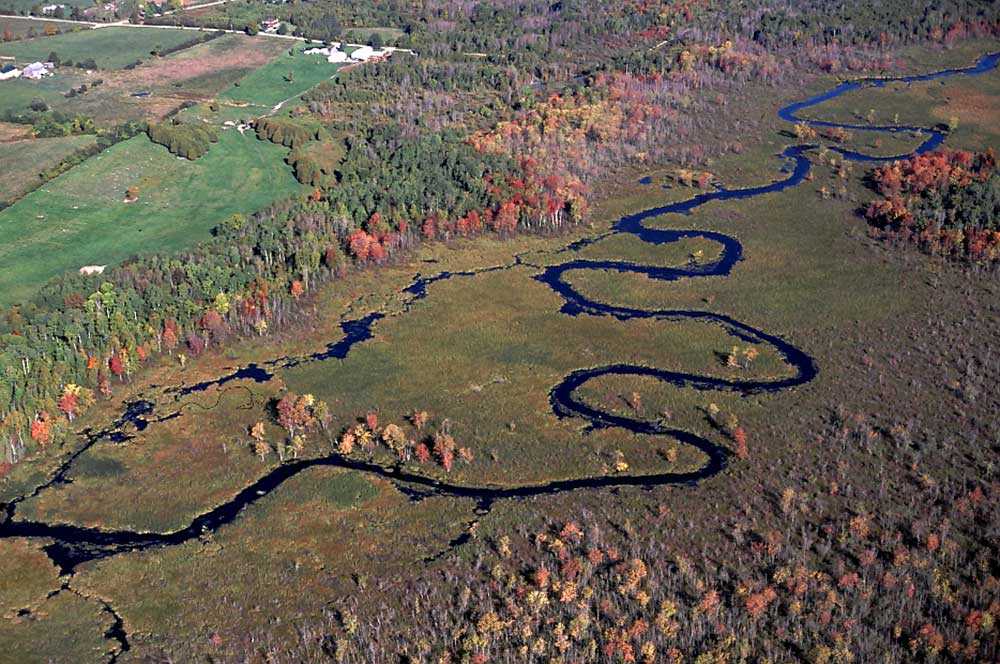 "A 13-km trail dissects the wetland complex, beginning in Blackwater and ending in Cannington. If you're planning a hike, you should visit the LSRCA website (www.lsrca.on.ca) for information about the wetlands, advice about trip arrangements and a map."
In June 2007, the Lake Simcoe Region Conservation Authority (LSRCA) hosted a celebration to recognize the private and public efforts to protect two recently acquired wetlands – the Lacey and Norrie properties, part of the Beaver River Trail Conservation Area. A generous bequest by Katharine Symons – in remembrance of her brother, Lieutenant Douglas Bond Symons – was recognized, as were the contributions of other conservation partners, including the Ontario Heritage Trust and the Nature Conservancy of Canada.
The beautiful, provincially significant Beaver River Wetland runs from near Uxbridge past Blackwater and Sunderland and north to Cannington, covering an area of about 2,300 hectares (5,683 acres). Part of this wetland has been designated by the Ministry of Natural Resources as an Area of Natural and Scientific Interest (ANSI).
The Trust – through its Natural Spaces Land Acquisition and Stewardship Program (NSLASP) – contributed to these protection efforts by assisting with the acquisition of the properties. The Lacey and Norrie properties will now remain in public ownership with stewardship by the LSRCA, and natural heritage conservation easements held by the Trust.
These properties add 25 hectares (62 acres) to the LSRCA's Beaver River Trail Conservation Area. The Lacey property features 15 hectares (37 acres) of marsh, swamp and cultural thicket. The Norrie property consists of 10 hectares (25 acres) of mixed forest and swamp. With these two wetlands protected, they can continue to act as natural filters improving water quality, providing habitat for wildlife and offering recreational opportunities for the Lake Simcoe watershed's residents and visitors.
The Beaver River Wetland is a natural heritage gem worthy of protection. Given the ongoing pressures of urban development in this area, it's a challenge to keep a property natural with minimal disturbance to the ecosystems that comprise its rich biodiversity. Identifying and protecting such delicate ecosystems – and their associated natural habitats – demonstrate a responsible planning approach that will ensure the sustainability of our lands and natural resources in near-urban areas.
This wetland complex contains an immense variety of plant life and wildlife habitat. Some of the vegetation species that can be seen include cattail, white birch, wild rice and black walnut. Submerged and emergent aquatic vegetation are also plentiful, including water lilies, marsh marigolds and violets. Local wildlife includes muskrats, beaver, river otters and great blue heron.
Since 1978, the LSRCA has actively pursued the acquisition of privately owned land within the wetland complex that contributes to wildlife habitat, water-quality protection and for recreational opportunities for residents and visitors. The LSRCA has acquired and protected about 200 hectares (494 acres) of wetland complex.
Funds through NSLASP have been allocated to assist with further acquisitions in the Beaver River Wetland, as well as the preparation of specific property baseline documentation reports and the overall stewardship plan for the Beaver River Wetland.
Previous article
Next article