Not just another opening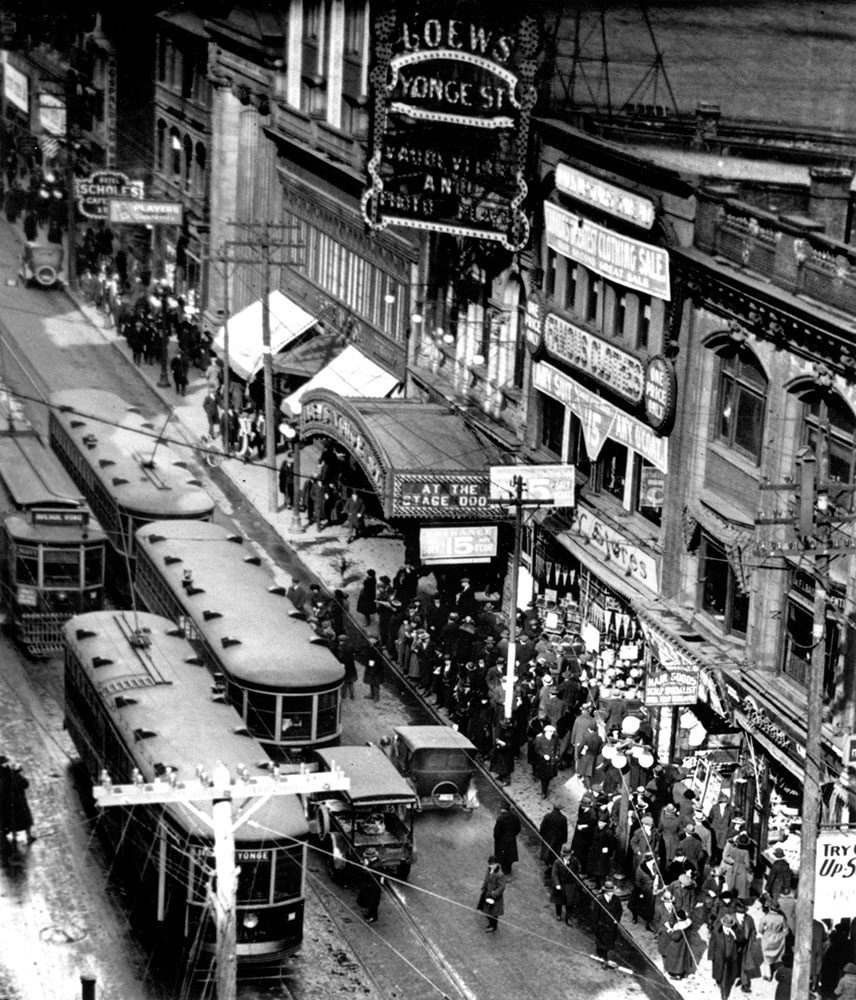 "To hear more stories about the world's last operating double-decker theatre and to see examples from the Trust's vaudeville scenery collection, join us for a public tour."
It's Monday, December 15, 1913 and the city of Toronto is abuzz with excitement over the opening of a new theatre. Loew's Yonge Street Theatre (owned by Marcus Loew and designed by Thomas Lamb) will house two full-sized theatres stacked one on top of the other. Although the upstairs Winter Garden Theatre isn't scheduled to open for another two months, tonight will witness the grand opening of the Canadian flagship of Loew's vaudeville empire.
Loew's is not, however, the only vaudeville house in town. Just down the street is Shea's Victoria on Richmond Street, and The Grand Opera House and Majestic, both on Adelaide. But Loew's is different – here, a person can sit in extravagant décor for as little as 10 cents.
The troupe of comedians, dancers, jugglers and singers enter through the stage door off Victoria Street. A young performer can find lodgings for only 10 cents a week at one of several theatrical boarding houses nearby.
As the performers file in, they cross the stage where the stage hands are getting ready for tonight's inaugural performance. The fly man is at the pin rail – a modern feature for the theatre – making sure that all the scenery has been correctly lined-up to fly in. The theatre has a range of standard scenery flats such as a garden, a palace and a streetscape for the revolving acts of the vaudeville shows.
On this wintry night, the public comes to the theatre on the streetcar that rumbles down Yonge Street. Patrons buy their tickets at the outside box office, located just off the sidewalk in the exterior vestibule. Making their way through the opulent lobby are members of Toronto's elite – physicians, bankers and publishers. Dignitaries include the Lieutenant Governor, Sir John Gibson, and Toronto mayor Horatio C. Hocken. Also in attendance is a young composer by the name of Irving Berlin. Tonight, the headline act is Weber and Fields, two of the world's top comedians of the day.
Running down the stairs from the crowded dressing rooms, the performers take their places in the wings, awaiting their cues. The orchestra strikes the first chord and the curtain rises. Once onstage, the glare from the new electric footlights makes it hard to see the audience, but the sound of laughter and applause guarantees that a good time is being had by all.
Who knew that nearly 100 years later, this grand old theatre would still be a landmark on Toronto's cityscape, and a destination for theatre-goers from around the world.
Previous article
Next article