Painted Ontario
Arts and creativity
Published Date: Feb 15, 2013
Photo: Post Romano Fool's Paradise, 1948, by Doris McCarthy (1910-2010). Used with permission. Fool's Paradise, McCarthy's former home and studio, was donated to the Ontario Heritage Trust in 1998.
Paintings are valuable sources of information for anyone interested in exploring our heritage. We can use them to glimpse into the past – to extract and explore information about the subject matter or about the context in which they were created and displayed. A painting is a product of a particular time and place, and although colours fade and paint may crack, a painting still meets our eye largely unchanged from the time of its creation. This time capsule-like quality is part of what makes paintings so compelling and intriguing.
But paintings can also distort time. Artists often look backward when creating a painting; they incorporate painting traditions and conventions that may have emerged centuries earlier, out of very different historical contexts. To further complicate the relationship between a painting and a particular time and place, artists also often look forward when creating a painting in an attempt to anticipate future viewers, future sites of exhibition or display and perhaps future commissions and career opportunities. Many artists try to move in new directions, making their works unique, groundbreaking or avant-garde. They want to be ahead of their time. Additionally, paintings, no matter how old, are active pieces of culture that are viewed, interpreted and recontextualized over and over, giving them new life and new meanings.
Despite these concerns, let us trace the history of painting in Ontario and examine how artists and artistic movements have influenced each other throughout the centuries.
European painting traditions were introduced to the province in the late 18th and early 19th centuries by gentleman officers, colonial administrators and their wives. Initially, painting in then-Upper Canada consisted mostly of small-scale watercolour landscapes. The painters were usually amateurs who, being truly "gentle" men and women – such as Elizabeth Simcoe, the wife of Lieutenant Governor John Graves Simcoe, and George Heriot, the Deputy Postmaster General of British North America – painted in their leisure time. Watercolour was their chosen medium because they were usually on the move and watercolours were transportable and dried quickly.
Some of these watercolours are lovely, intimate works, but they often also combine different stylistic influences to create interesting tensions. Many of the officers who painted in Upper Canada at the time learned to paint as part of their military training, in order to create accurate topographical records for military purposes. This purpose was reflected in their watercolours. Painting in their leisure time, however, they employed conventions from British picturesque landscape painting that softened and idealized what was, in reality, rugged Canadian wilderness, producing works that are interesting, if somewhat unconvincing.
Notions of ownership and possession, both of land and of art, were central to the 19th-century British landscape tradition – be it military or picturesque – and it is interesting to contemplate the watercolours created in Upper Canada with these themes in mind.
In the first decades of the 19th century, most professional painters working in Upper Canada were itinerant portraitists from Europe or the United States who passed through, receiving commissions from a few wealthy patrons. But there was usually not enough money or work in the province to sustain them. One notable exception was the French painter George Theodore Berthon, who arrived in Toronto in the 1840s and enjoyed a successful career painting society portraits. Another was Paul Kane who travelled throughout the country painting portraits, landscapes and genre scenes in First Nations communities. His study and portrayal of First Nations often displays a genuine respect for his subjects, while showing the penchant at that time for recording, categorizing and examining these "exotic subjects" as part of the imperial project.
Throughout the 19th century as well, painters working in Ontario were influenced by European academic styles. But the realities of what was then a pioneer society often undermined their lofty aims. In the mid-19th century, before the introduction of artistic institutions, associations and galleries, the only public exhibition spaces for Upper Canadian painters were agricultural fairs. Paintings could be displayed here and prizes awarded for those deemed exceptional. These competitions, however, were often dubiously judged and the fine arts category was broadly interpreted. Paintings were exhibited alongside furs, wax flowers, crafts and tools, and even dentures. Interestingly, today, many artists have returned to this more eclectic view of fine arts – including folk art, crafts and other objects.
Starting in the 1870s, serious efforts were made to change this situation by establishing art institutions modelled on those in Europe. The goal of artists was threefold – to raise the status of the artist to that of professional, to create appropriate spaces in which to exhibit, and to improve Ontario's taste through education and exposure to art. The predecessors of the National Gallery of Canada, the Art Gallery of Ontario, the Ontario College of Art, and the Ontario Society of Artists were all created in the last decades of that century. By this time, Ontario had numerous professional artists, most of whom had trained at art academies in Paris and across Europe. Their training was based on rigorous study of the human figure and three-dimensional representation through light and shadow. Painters were encouraged to produce highly finished, sentimental narrative scenes. Ontario artists Paul Peel and George Agnew Reid worked in this genre.
At the same time, too, landscape painting re-emerged as a force in the province. Influenced by the French Barbizon school and by the English landscape painter John Constable, painters such as Homer Watson created highly detailed, idealized rural scenes in dark, muted colours. Again, superimposing European conventions on Canadian landscapes created paintings that were occasionally incongruous, but that also reflected a province still being settled. It should be noted that, by this time, portrait painting was in decline as patrons were turning instead to the new art of photography.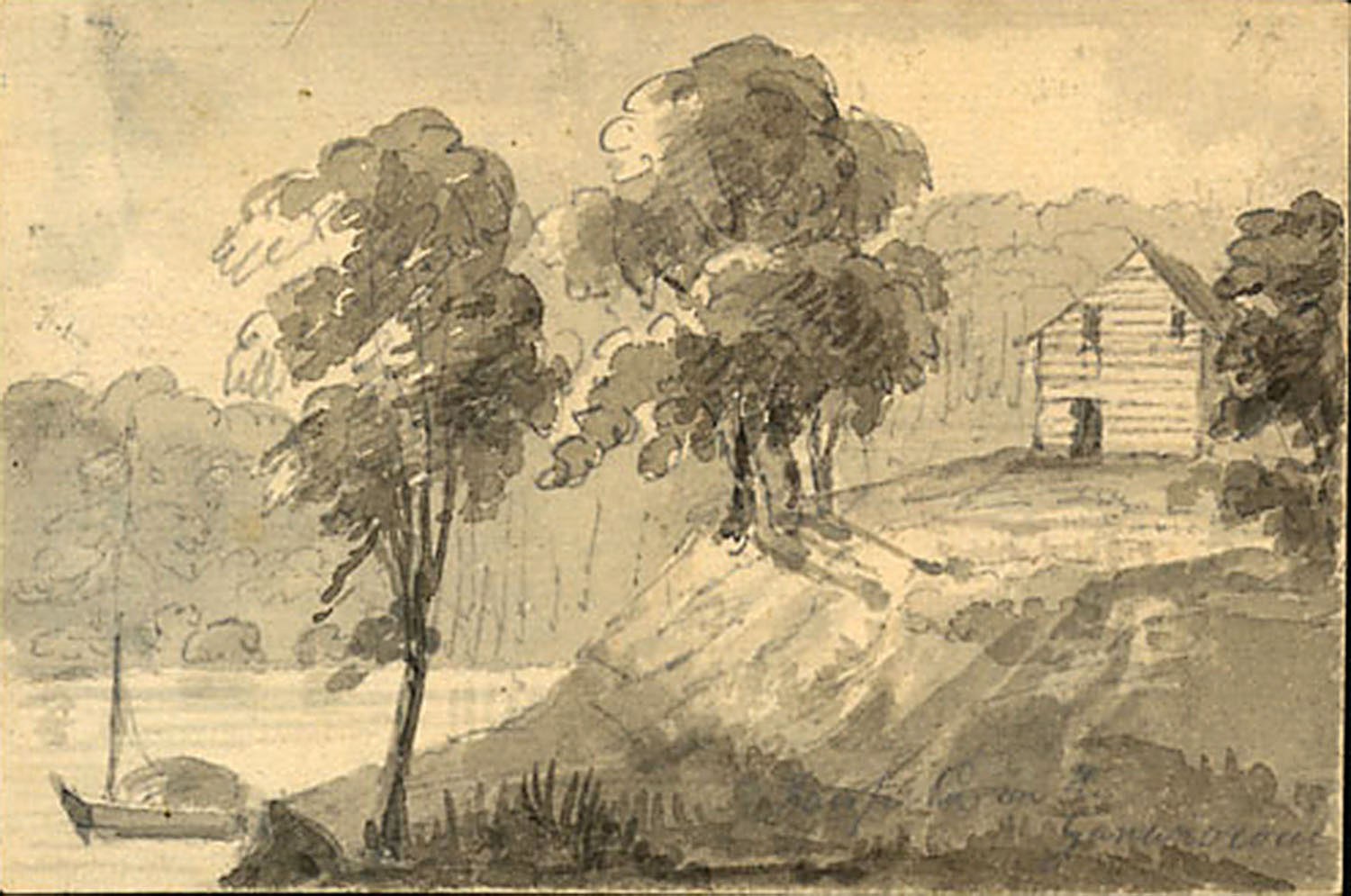 Photo: Elizabeth Simcoe, Fanfield on the Gananocoui, below Kingston, September 15, 1795, watercolour, F47-11-1-0-145, Archives of Ontario.
At the beginning of the 20th century, major changes were happening to art in Europe that reflected increasingly industrialized, urbanized societies in flux, and expressed a sense of anxiety and alienation that this change elicited. In Paris, for instance, Picasso and others were breaking down and reconfiguring forms and experimenting with the possibilities of artistic media.
Artists working in Ontario were far removed from these innovations, but some, such as the landscape painter David Milne, began to move away from the influence of 19th-century European academic painting. Milne was less interested in describing external realities/details and more concerned with depicting the broader sensory experience of Ontario landscapes. Painters in Ontario slowly turned to more modern influences, such as the post-impressionists who had worked in France at the end of the 19th century – including Gauguin, van Gogh and Cézanne. They used bold colours, abstract shapes and free brushwork, putting emphasis on the texture of the canvas, the materials and the process of painting.
The First World War prompted many artists to break with older traditions in order to create distance from the societies that brought about the war, and to reflect a rapidly changing world. It was within this context that the Group of Seven emerged as leading figures in Canadian art. The Group's portrayals of nature as paired down, rugged, dynamic and romantic provided a new self-image for Canadians. More conservative critics at the time were not impressed – famously calling their works "hot mush" because of the loose brush strokes, thick application of paint and bold colours. The Group, however, soon became the standard against which art in Ontario was judged and Canada's first distinctively national school was championed in art schools, galleries and the press. Canadian identity was now defined as a response to the landscape. Although only tentatively modern compared to the direction painting was taking elsewhere, the Group of Seven nonetheless inspired a new generation to experiment and expand.
The Group of Seven's work revitalized Canadian art and suited Canada's urge to national self-definition. But it also brought about some problems for artists. Now, art was central to nation-building and there was an expectation that art should reflect and express national themes. This imperative was especially difficult for painters in the middle of the 20th century who were exposed to international styles that explored increasingly global, industrial, urban forms.
Soon, painters influenced by the abstract art coming out of New York were reacting against the Group of Seven. Kathleen Munn and Bertram Brooker were among the first to create and exhibit abstract works in Ontario. These paintings removed descriptive subject matter so that the work itself became the subject. The focus of abstract painting was directed inward – to the subjective feelings and expressions of the artist and to a preoccupation with the practice and the development of art rather than external subjects. The people, places and objects that cluttered the cities where abstract artists lived were gone from the canvas. They focused instead on formal issues of colour, space and tensions between chaos and control.
In 1953, a group of abstract expressionists held their first exhibition – Abstracts at Home – in the furniture section of Simpson's department store in Toronto (now The Bay at Queen and Yonge streets), hoping that potential patrons would see how modern and striking the works looked on living room walls. The show was a success and the group soon expanded, becoming known as the Painters Eleven. They injected new energy and ideas into the Toronto art scene, finally establishing modernism as a force in the city.
By the late 1960s and in the 1970s, artists found that the inward-looking, at-times-overbearing and aloof qualities of abstract painting no longer suited the politically charged, socially engaged, cultural atmosphere. Post-modern artists returned to themes of nationhood, identity and narrative. Their works included social commentary and often referenced artworks of past generations. Artists such as Joyce Wieland, Michael Snow and Greg Curnoe worked with a variety of materials, including paint, and often incorporated materials, forms and colours from popular culture into their works.
Meanwhile, numerous First Nations artists were reinterpreting and recontextualizing traditional symbols, forms and motifs. Norval Morrisseau and Daphne Odjig, for example – who are associated with the Woodlands school, a group of predominantly Anishinaabeg artists – interpreted traditional imagery using vivid colour and, at times, western materials. Much of their works explore issues of First Nations identity.
In recent decades, materials, subject matter and style have become increasingly varied. Fragmentation, disorientation and ambivalence have often been expressed, but paintings and drawings have just as often been playful and humorous. It's difficult to determine how future generations will characterize painting from recent decades; perhaps it will largely be characterized by variety and diversity. That is something we can all look forward to as we reflect on the history of painting in Ontario.
Previous article
Next article