Communities embracing our landscapes
Ontario has been home to Canadian artists of all disciplines. Since the mid-19th century, painters particularly have worked to capture Ontario's unique sense of place. From Elizabeth Simcoe's 19th-century watercolours of early Upper Canada to Jack Chambers' paintings of London and area during the 1960s, the Ontario landscape has inspired many professional and amateur painters. Fortunately, their prolific body of work has been, and continues to be, embraced by enthusiastic and vibrant cultures of support within our communities.
Simcoe (1762-1850) produced a series of sketches and watercolours that provided first-hand accounts of Ontario's early landscape. While artists such as Paul Kane (1810-71) and Cornelius Kreighoff (1815-72) were not specifically landscape painters, their scenes of colonial outdoor life included scenery that imparted information about the environs and the weather.
The pastoral influence of British painters such as John Constable (1776- 1837) informed the work of many Ontario painters around the turn of the 20th century. Homer Watson (1855-1936) was strongly influenced by Constable, as were Arthur Lismer's (1885-1969) earliest works. Likewise, the North American art market at this time was heavily influenced by that in Britain and Europe. Overseas art entered the Canadian market through Montreal and New York. Apart from the grandeur of Niagara Falls, most Ontario landscape artists at this time preferred to represent scenes touched by the presence of people that captured the essence of the outdoor world.
A shift in this approach to landscape occurred in 1912 when Tom Thomson (1877-1917) painted his first vivid scenes of Algonquin Park. Using bold outlines, strong colours and short brush strokes similar to some post-Impressionist painters, Thomson recorded the dramatic park landscapes in his own distinctive style. His contemporaries – those who would later form the Group of Seven – soon followed him into the park, the Georgian Bay and French River areas, and the Algoma District. Often travelling by rail, these artists painted the wild, rugged and remote landscapes of northern Ontario. The largely untouched boreal forests, rocky outcroppings and waterways of the pre-Cambrian shield provided an abundance of subject matter. And the marked differences provided by the changing seasons encouraged the artists to return to paint the same locations repeatedly. Thomson and the Group of Seven had created a singular Canadian style with their unique renderings of the Ontario wilderness.
A contemporary of the Group of Seven, David Milne (1882-1953) painted some of his finest works in the Six Mile Lake region, just north or Orillia. As a young landscape painter, Doris McCarthy (1910-2010) travelled to Algonquin Park, Haliburton and Muskoka to paint the rugged landscapes for which she would become famous. Although McCarthy painted in the high Arctic and throughout Canada, she also enjoyed painting in her own backyard at Fool's Paradise in Scarborough. Ontario artists continue to paint landscapes that are close to home. Modern urban elements have found their way onto the canvases of many painters, as seen in Jack Chambers' work (1931-78). Christine Pflig (1936-72) painted many of her noted Toronto cityscapes looking out of her kitchen window.
Throughout the province, there are thriving galleries, organizations and events that support Ontario artists and their work. In addition to larger institutional collections – such as those held by universities and the Government of Ontario – virtually every town and city in the province is home to a space where art is exhibited for the public to enjoy. Places like Homer Watson House & Gallery in Kitchener, the Tom Thomson Art Gallery in Owen Sound or Markham's Varley Art Gallery were initially established to showcase an individual artist or collection, but have developed, over time, into spaces that embrace and exhibit the work of others. Galleries such as the Above Ground Art Gallery at the Timmins Museum, the Station Gallery in Whitby or The Art Gallery (TAG) Cornwall strongly support and prioritize the work of local artists.
Small communities often establish art galleries and exhibits in the local library, a heritage building, community centre or municipal office. In 2010, the Town of Aurora opened its Cultural Centre in the restored Church Street School. Here, two art galleries share space with a museum and performance hall. In Brampton, the Peel Art Gallery Museum + Archives also incorporates historical buildings into its operating and exhibit spaces. In addition to exhibiting art, these facilities also reach out to their broader communities through public programming and special events for school groups, families and adults.
Artist-in-residence programs are common in Ontario educational institutions and galleries, but are also offered by some conservation areas, provincial parks, hospitals and health care centres. Local art-in-the-park events, popular during the 1970s, continue to thrive. Often combined with local markets, festivals, fairs or fundraising events, these outdoor venues provide professional and amateur artists the opportunity to show and sell their work. For instance, the juried New Art Festival in Ottawa is run by artists for artists and is celebrating its 20th year in 2013. The art-in-the-park influence has also recently given rise to larger annual events such as Toronto's Luminato, Nuit Blanche and the Outdoor Art Exhibition at Nathan Phillips Square. In addition, local artists' studio tours give art lovers the chance to visit the working spaces of area artists and artisans.
The size and geography of Ontario – with its glacial features, abundance of natural settings, changing seasons and energetic urban centres – have always appealed to the creative spirit in painters. As artists continue to settle, live and work in this culturally rich and diverse province, our institutions, communities and art-loving public proudly encourage and embrace them.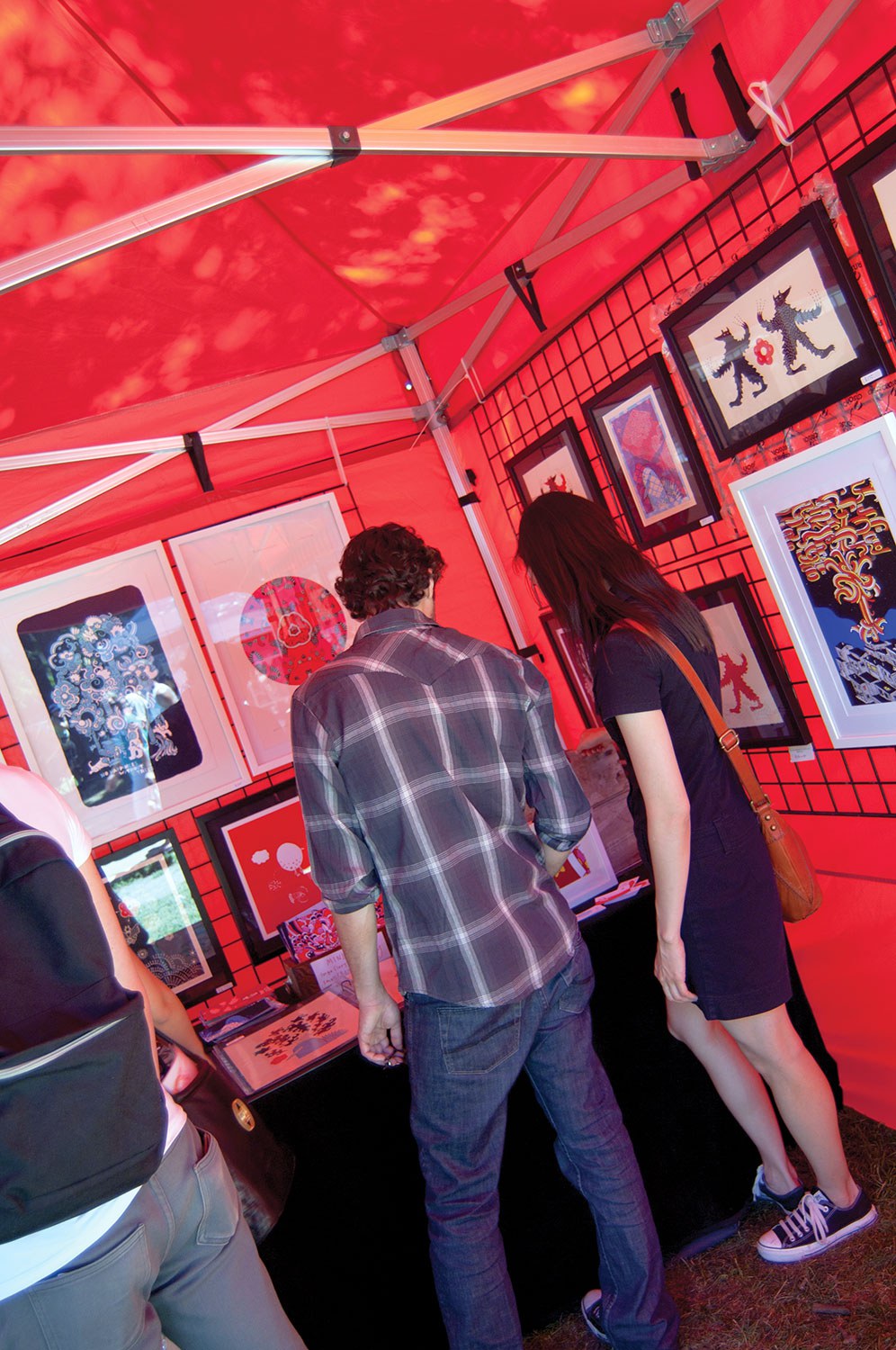 Photo: The art-in-the-park influence has recently given rise to larger annual events such as Toronto's Luminato, Nuit Blanche and the Outdoor Art Exhibition at Nathan Phillips Square. (Photo: Ontario Travel)
Previous article
Next article