The journey of women's empowerment
The year 2017 was, to say the least, one to remember, providing a myriad of opportunities to celebrate, but also to critically examine Canadian history, drawing comparisons between then and now while looking to address the great challenges of the next century and a half. Although much work remains if we are to be fully inclusive and truly prosperous with nobody left behind, as never before I have felt the unparalleled self-confidence, commitment and ambition that motivate us to build kind and caring communities.
Ontarians have a long history of seeking to overcome all that stands between us and a more cohesive society. For example, we recently marked the centennial of the Election Law Amendment Act, which granted voting rights to many women in this province, a ground-breaking step on the path to universal suffrage in Ontario. Similar rights were accorded to women at the federal level just a year later in May 1918.
The suffragettes' long and difficult struggle to be heard still inspires us to keep working so that everyone is able to achieve her full potential. It also reminds us just how important women have been in building the province and country we know today.
Last year, I launched "Unfinished Business," an initiative to inspire all Ontarians to work toward gender equality and the empowerment of women and girls. Hundreds of ensuing conversations inspired partnerships and collective action with a view to enabling all women to bring their knowledge, perspectives and leadership to every field of human endeavour. While all of these initiatives focused on women and girls, they also recognized that men and boys can be important allies and supporters. Each initiative was of great value, but a few in particular stand out.
First, for a day last February, I hosted Ontario delegates to Daughters of the Vote: Marking History, a conference and parliamentary simulation bringing together 338 young women representing each riding in the House of Commons. Not only were these women selected to attend from a highly talented applicant pool, but their presence in the Commons chamber on International Women's Day in March sent a powerful message of women's empowerment that would have been all but unimaginable only a few generations ago. The event was led by Equal Voice, an organization aimed at increasing women's representation in elected offices in Canada.
Such gatherings continued. In April, motivational speaker and champion of ethics in leadership Dr. Betsy McGregor joined me in convening Trailblazers and Pathmakers, a day-long gathering of 100 women students, professionals, leaders and activists from all walks of life. Everyone present contributed to meaningful conversations about the challenges and opportunities facing women in Ontario, fostering new cross-generational and interdisciplinary relationships. A virtual version of this exercise in November introduced me to students at Lakefield College School, and I was struck by how the students demonstrated a similar drive to give voice to the shared experiences of women and girls and to build a fully inclusive society that works for everyone.
Global Compact Network Canada hosted a forum on gender equality in Toronto. It was heartening to see so many leaders in business, government and civil society come together to share strategies designed to empower women and girls and to advance gender equality, as embodied by the United Nations' Sustainable Development Goals.
All too often, girls and women find themselves in competition with each other. The initiative Changing the Game: Changing the Conversation, an Ontario 150 project led by Coaches Ontario, worked throughout the year to make worthwhile investments in Canada's sporting future by recruiting and supporting 250 women coaches. Sports are an opportunity to learn teamwork, and women coaches foster a sense of solidarity that will benefit players throughout their lives. The bonds built between athletes and their coaches will strengthen intergenerational ties. By fostering young women's long-term involvement in sport, a society that values and includes everyone moves closer into view.

An inclusive society rests in part on widespread scientific and technological literacy, the focus of yet another initiative: Canada 2067. Led by Dr. Bonnie Schmidt and national charitable organization Let's Talk Science, this project has sought to transform STEM (science, technology, engineering and math) education in this country, particularly as it relates to young women, who tend to self-select out of STEM fields earlier than their male peers. In June, I attended a Canada 150 coding event, led by Toronto-based Ladies Learning Code, where I saw a new generation of young people learning a valuable life skill. These efforts could not be more relevant in our changing knowledge-based economy. The world around us is evolving so fast, we can either stand still, watching it change as technology advances, or we can try to keep up. We can learn about technology's endless possibilities, figure out how it works, and seize its potential in building sustainable and resilient communities.
As 2018 progresses, it is to be expected that Canada 150 may fade from our collective consciousness. And in the coming years, some may remark that we did not leave many sesquicentennial monuments and physical markers, as we did during the centennial in 1967. In 2017, it is clear that we decided to leave our mark in a different way.
Canada is now a more mature country, one not so eager to prove itself. What I have witnessed over the past year reflects our willingness to have difficult conversations and to come to terms with all aspects of our past and present. From the shameful legacy of residential schools and cultural assimilation, to gender-based violence and sexual harassment, we recognize that we must do better, and that we are ready to start doing better. We know that women and girls in their fight for equality have found ever greater courage to raise their voices and lead movements against injustices of all kinds. In doing so, they have found solidarity and strength in each other and, in turn, support from every facet of society.
Let us hope that our commitment in 2017 to a better province and a better planet, will prove a turning point, a historical marker greater than any monument, a testament to lasting and positive change.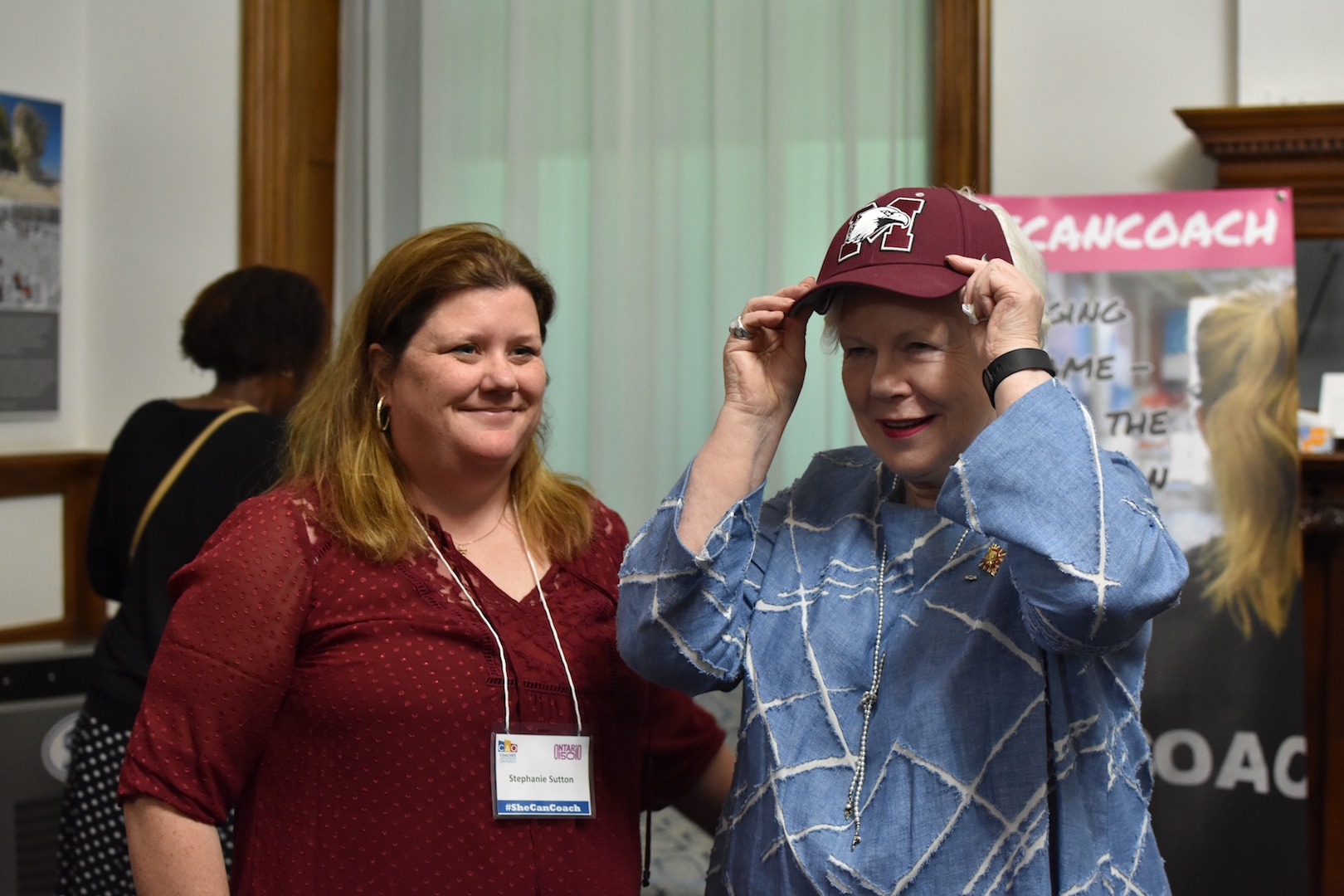 Photo: The Lieutenant Governor and Stephanie Sutton, a softball coach at McMaster University and coach mentor, share a light moment. Photos courtesy of the Lieutenant Governor of Ontario.
Previous article
Next article