Shifting the narrative
The past few months have witnessed an important conversation among Canadians – and, in fact, across North America – about the historical value of statues and memorials, about who we honour in society for their contributions and how. It has brought some critical thinking about our history and heritage, discussions that have stretched beyond professional forums to more public debate about who should be recognized with such honours and how those decisions are made. As our understanding of our history grows, do those decisions bear scrutiny? What is so interesting is how engaged people are in this conversation – in newspapers and online, between politicians and students, survivors and witnesses, on the street, in art. When was the last time that so many people talked about any topic related to history and heritage? There are strong opinions on both sides of the discussion, and it's a conversation that needs to be heard. The underlying question is about what we value and who we want to be.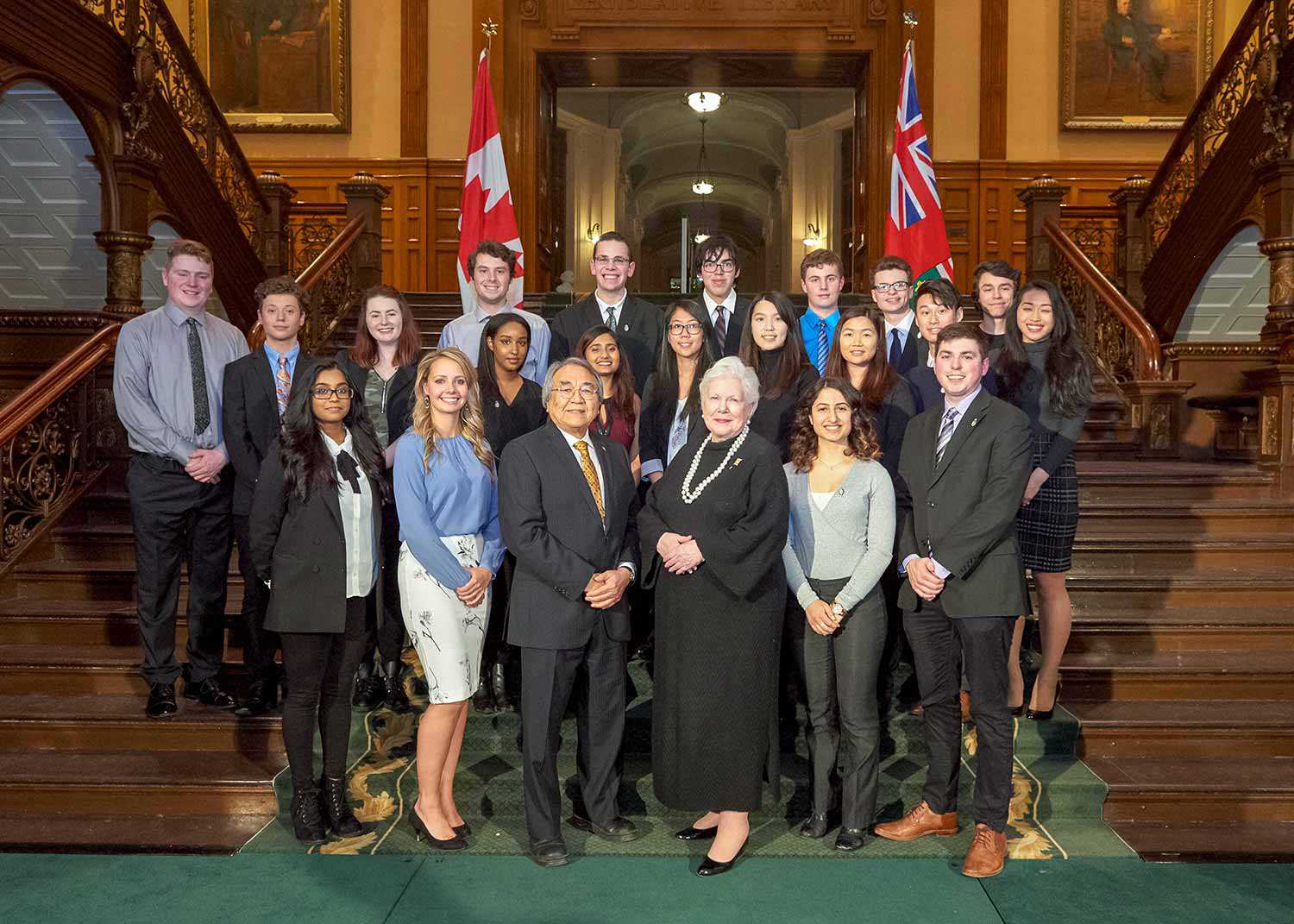 Recipients of the 2017 Lieutenant Governor's Ontario Heritage Award for Youth Achievement used research, oral histories, videos, podcasts and apps to capture stories, conserve the cultural practices of marginalized groups, and uncover the interconnections of diverse communities. (Photo: Ian Chrysler)
This is part of a broader discourse about whose history is told, about gender, people of colour and the economically disenfranchised, and others whose stories have been overlooked or intentionally omitted from the authorized discourse. It's about what we conserve and how such choices are made; about decolonizing history; about building bridges of reconciliation and creating a sense of belonging. This should come as no surprise. Think for a moment about how we have gotten here. In terms of our public history, we've created a national identity expressed through historic sites and monuments focused on forts, institutions, historic sites and collections; defined by society's most influential communities; and based on western European traditions of the monumental, the grand, rare and impressive. Widespread enthusiasm for the celebration of milestones measured from the date of Confederation has left us with a collection of sites and stories drawn more from western European expressions of value than from a Canadian-specific experience.
Over the past several years, the Trust has made a concerted effort to bring forward the stories of all of the people of Ontario – providing a forum to look back over more than 10,000 years at the people who have lived here, raised families, created communities, traded and often fought with and for one another. The goal of our work now is to re-define the narrative – to ensure that the heritage we protect and the stories we tell are a respectful, accurate and authentic portrayal of the peoples who have lived on and contributed to this land known as Ontario. This means that we have to tell both the good stories and the darker side of how people have interacted with one another and with the land. Which leads to the questions – whose heritage are we protecting? whose stories are being told? and what's missing?
In recent years, the Trust has designed programs and partnerships to create a meaningful public dialogue and a more inclusive discussion around heritage. We are working with communities across the province to share their own stories in their own voices, to celebrate the diversity of experiences, languages, customs and perspectives of different people and different places. We've been challenged to re-imagine our identification and valuation processes to respect the sometimes dissonant layers of history, as well as the mutual interaction between community and geography. We are working to design more integrated protection practices that bring together the tangible heritage of place and object with the intangibles of story, memory and tradition. This approach is enshrined in the way the Trust forms policy, the way it listens and acts, and fundamentally how it respects others.
This isn't an easy shift to make. It requires all of us to examine our biases, to challenge assumptions, to consider at every turn whether there is another part of the story, another voice that needs to be heard. It raises a series of questions about how we make decisions about conservation and interpretation.
Can we re-imagine our approaches to welcome other voices, weave together sometimes contradictory values and acknowledge the darker side of our heritage? How do we broaden the circle? How do we engage additional communities and recognize as having value the perspectives, worldviews and connections that different people bring to the history and preservation of the planet? And whose values and perspectives take precedence?
New exhibitions at Uncle Tom's Cabin Historic Site explore the realities of slavery in Canada and tell of the spirit and determination of Josiah Henson and residents of the Dawn Settlement.
In the work that the Trust does with Indigenous communities, it has been necessary to search past the well-told, long-taught history of the settlers to understand the complex and successful civilizations of the Anishinaabek, Haudenosaunee and Wendat that have existed here for more than 10,000 years. We have had the opportunity to hear from Elders and knowledge keepers about the values they place on the land. Those discussions have enriched our understanding and our actions. We have also recognized that this important history is preserved not in books or on plaques but in the very act of sharing it from generation to generation. What happens when we see their worldview as different and no less valid than any of those that came with settler societies or with immigrants who have arrived since? What can we do to tell their rich and relevant history, their ongoing and continuing contributions to health and science, to sports and culture, to business and politics? Who are the heroes from those communities who have yet to be recognized and celebrated?
At Josiah Henson's home, Uncle Tom's Historic Site in Dresden, we have recently re-examined the reality of slavery in Canada so that we can better understand its influence on what has followed. We look at the Dawn Settlement as an example to explore themes of freedom and social justice. So often, we learn the stories of Harriet Tubman, Josiah Henson, Mary Ann Shadd and their work with the Underground Railroad, but they are too often frozen in time and place, lauded for their bravery in the search for freedom and still not treated as equals in the annals of history. The rest of the Black community remains largely nameless, their sites of memory and the stories of their ancestors forgotten in time. After 400 years of presence of the Black community, they and their contributions should be respected, recognized as intrinsically valuable.
There are entire populations of our society whose contributions to our history and heritage have been overlooked – women, immigrant communities and refugees, racialized people and the LGBTQ2, to name a few.
This magazine provides an important forum to bring more people into the discussion of topics ranging from sports, medicine, intangible heritage and, more recently, women's rights. In this issue of Heritage Matters, we hear from many people in Ontario who are attempting to shift the narrative about an aspect of our past – whether it's the voices of the Ancestors shared in reflections on the land from Curve Lake First Nation Cultural Archivist Anne Taylor; an untold history of the Huronia Regional Centre through the stories of survivors, as told by Katherine Rossiter; a new perspective on Chinese immigration by Lily Cho; or an understanding of a story about what led to the installation of Canada's first Holocaust monument. Some of these stories may sound familiar, but these fresh perspectives bring to life aspects of the past that are not reflected in the authorized narrative.
The Trust's provincial plaques provide an important medium for the sharing of stories, working with Elders, knowledge keepers, historians and leaders from communities all over the province. Since 1956, 1,283 provincial plaques have been unveiled. They capture time and place, the contributions of our heroes, stories of struggle, courage and ingenuity. We've worked with historians, geographers, the francophone community and a number of Indigenous Nations to consider the story of Champlain from a variety of perspectives; with the Rama First Nation to explore the topic of the Anishinaabeg at Lake of Bays. We've commemorated the Franco-Ontarian flag, the Flying Frenchmen, Chief Francis Pegahmagabow, Hugh Burnett and the National Unity Association, Sexual Diversity Activism at the University of Toronto, and the contributions of Almanda Walker-Marchand and the Fédération des femmes canadiennes-françaises. These plaques only begin to tell the story of Ontario.
We conducted a review of our plaques this year to understand where the content is outdated, inaccurate or incomplete. These plaques have been created over seven decades. We acknowledge that, for many subjects commemorated by provincial plaques, the story presented is a small part of a much more complex topic. As we seek to tell a more complete story, we are adding resources and perspectives to the website as they become available and we'll be encouraging the public to become involved in the conversation.
Over the past two years, the Trust has also been examining the properties that we protect, through ownership or easement, to gather information and to identify gaps. The Trust has seven heritage interests defined in our statute that are applied in an integrated way: historical, architectural, archaeological, recreational, esthetic, natural and scenic. When seen as a whole, the portfolio tells interesting stories about the province's cultural and natural heritage, but further work and detailed analysis will be necessary for us to identify where the gaps exist.
If it's true that we protect what we value, then we should revisit the frameworks and criteria that we use to determine what has heritage value and proceed with an approach that is inclusive and multifaceted and that reflects our diversity and complexity. The Trust has articulated a set of values by which we operate, which concludes with "the potential of heritage to inspire, to stimulate creativity and to motivate us to bequeath knowledge, narratives and histories, and a diverse and authentic cultural environment to future generations." As individuals, organizations and communities, we have the ability to choose what we pass along to those who follow.
Previous article
Next article